African All Stars
Could slow start from Salah and Mane open the door for Solanke?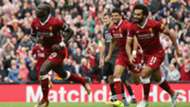 ---
COMMENT    By Solace Chukwu    

Follow on Twitter
---
The Premier League's last remaining 100-percent record fell at the weekend, as Chelsea held Liverpool at Stamford Bridge. That, however, has done nothing to dampen the expectation surrounding the Reds' readiness for a title tilt.
That has been the feeling since the summer, buttressed by the certitude with which Jurgen Klopp moved to address the well-known weaknesses in the squad. The defence, once an Achilles' heel, is sturdier, and the squad is deeper - better equipped for the rigours of an entire league campaign.
However, whereas at times last term Liverpool seemed apt to pulverize teams with their front three of Sadio Mane, Roberto Firmino and Mohamed Salah, they have had a much harder time this season. A previous strength has now morphed into, not so much a weakness, but certainly a point of concern.
There simply is, as yet, none of the same coruscating movement and ruthless efficiency that characterized them at their fluent best last time out, and while the small matter of the World Cup in the summer provides a bit of an explanation, it is not just a matter of fitness.
It seems almost like some of the confidence has been abraded.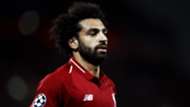 Salah, the star of the side and chief goalscorer, seems to take too many touches, second-guessing where last season he was decisive, even if not always exact.
Mane, prone himself to over-elaboration, has taken it up a notch even, and lacks the same sharpness and incision that made it possible to indulge him. As a collective, they just seem easier to read, in a way they previously weren't.
Sadio Mane | 2018-19 Premier League stats
Obviously, it is not terminal yet, and the fact that it has taken seven games to truncate their run of perfection means some of the conversation around this can seem needless and self-indulgent. However, already this season, Klopp has acknowledged the problem, and has moved to address it in-game on a few occasions.
Whereas it was unthinkable last season to see Salah substituted while the game was in the balance, the Egyptian was hooked at the weekend.
Mohamed Salah | 2018-19 Premier League stats
Mane's tireless effort has perhaps given him a little bit more rope (Salah, if not offering menace in behind and in front of goal, can be pretty basic), but one wonders if his place will similarly become less secure if he doesn't get his efficiency up.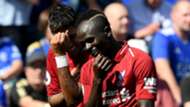 In Xherdan Shaqiri, there is a stylistic facsimile to Salah, and Daniel Sturridge demonstrated, with his corker at the weekend and his goal against Paris Saint-Germain in the Champions League, that he is ready to lead the line.
However, were Mane - and indeed the entire front three - to exhaust Klopp's patience, that could well open the door to Dominic Solanke to come in from the cold.
The 21-year-old has not featured for the first team this season, a consequence of the arrival of Shaqiri, no doubt.
He seemed on the verge of a major breakthrough at the end of last term, leading the line excellently as Klopp rotated in the league with the Champions League in view, but that promise has not translated to much this term.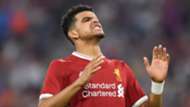 However, the brief dalliance with a 4-2-3-1 system against Southampton a fortnight ago could offer him a way back in.
Ostensibly a move geared toward breaking down opponents that sit deep, it somewhat neutralized the skillset of Roberto Firmino centrally, as the Brazilian's role is to create space by dropping deep.
A proper forward like Solanke would relish the battles that Firmino doesn't, and would not require space in behind quite like Sturridge does.
With the Brazilian moving to the hole behind the striker, it could offer Liverpool a fresh dimension in attack.
Dominic Solanke | 2017-18 Premier League stats
That would, of course, be a radical step, only to be taken if the current malaise persists.
However, perhaps Liverpool's great weapon this season is not so much that front three, which was always unlikely to hit the same heights as last season, but the sheer breadth of their options now.
If a front three that thrived on their unpredictability has suddenly become predictable, then Solanke could well be an ace in the hole.