UEFA Europa League
Copenhagen ready to launch their 'secret weapon' against Atletico Madrid – Boilesen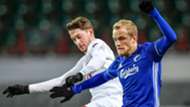 Copenhagen star Nicolai Boilesen is confident that his side can cause a Europa League upset when they tackle Atletico Madrid over two legs.
The first match takes place on Thursday, with the 25-year-old left-back optimistic that his team can upset the Spanish giants with a strong performance at Parken.
Copenhagen's home ground has been something of a fortress for them this season in European competition, as it was there they claimed seven points from a possible nine in the group stages to reach this point.
Moreover, they did not concede a single goal at their home venue, which Boilesen believes could offer a platform for an unlikely success.
"Parken is our secret weapon in the first match," he said. "Denmark have a very good home record in international matches here.
"Of course, Atletico are used to be playing in a league of another quality than the Danish league, but we won't be a pushover at Parken. 
"I have been at for Copenhagen a year and a half now, and in that time we have had a lot of good results in the European matches at home – we're unbeaten against clubs like Leicester, Porto, Ajax, Club Bruges, Lokomotiv Moscow, Zlin and Sheriff Tiraspol.
"I turn 26 between the two Atletico games, and I can think of no better birthday present entering the best years of my career than knocking this great team out of the competition."
Indeed, being back in the spotlight is something the vice-captain of Copenhagen craves. 
"It is a pleasure to play big games like these ones against Atletico. You want to play against the best players and the best teams, and Atletico are one of the best in the world - as the UEFA club ranking proves. 
"Obviously, they will be the favourites, but we are going all-in to create the sensation and knock them out of the competition. 
"With Ajax I have won against Barcelona in the Champions League, and Copenhagen is almost the same level as Ajax - so why not?"
Boilesen, who has been a virtually ever-present in Copenhagen's ranks this season, is wary of the quality that their opponents carry and has warned his team-mates that their struggles in other competitions may help them here.
"Maybe it will make Atletico focus more on this game now, when Barca are so far in front of them in La Liga, and when they are not in the Copa del Rey anymore. This is their last chance of a trophy this season, so they can put a lot of power into their performances against us because this competition must now be their top priority."
Like Atleti, Copenhagen appear to be out of the running in the Danish Superliga. They find themselves 18 points behind leaders Midtyjlland after 20 matches, having struggled to balance the rigours of playing in Europe along with those of the domestic game.
"We are a very focused team in the big games, and we proved that in the Europa League group," the defender said. "Three clean sheets and seven points collected in our home games was the key to advance from the group stage."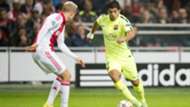 Boilesen finds himself back in his homeland after being frozen out at Ajax when he refused to sign a new deal. He was forced to play with the reserves for the whole of the 2015-16 season and is now looking to make up for lost time.
"Ajax kicked me out on the sideline for one year as a punishment for not extending my contract with them, and it was a difficult time for me," he said. "Now I am back and stronger than ever, both mentally and physically. A football player can always find parts of his football to optimise - even without playing matches.
"The World Cup is a big goal for me this summer. I was a regular for Denmark before my 'Ajax punishment', and I have missed that a lot. There is nothing bigger in football than representing your country."
Meanwhile, he is showing his versatility with Copehagen. Not only has he excelled in his usual left-back role, but he has filled in of late in the middle of the defence in the absence of Sweden international Erik Johansson.
"Football is all about the team, and obviously I prefer to play in my natural role as left-back, but when my coach needs me to play in another position to help the team, of course I do that," he said. "It only develops me as a player to be able to play in more positions."
Up against Antoine Griezmann & Co. on Thursday, Boilesen will have the opportunity to prove to the doubters that he really is back.