Chelsea
'Conte leaves you dead after training!' - Chelsea boss' drill sergeant discipline revealed by Chiellini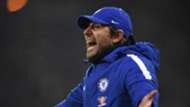 Juventus defender Giorgio Chiellini revealed players were left "dead" after training sessions under Chelsea head coach Antonio Conte.
Conte is under fire at Stamford Bridge with Chelsea sitting fourth in the Premier League after back-to-back losses.
The 48-year-old spent three seasons at Juve – winning the Serie A in each of those campaigns – and coached Chiellini during his time at the helm of Italy.
Chiellini, a 96-time international, revealed just how demanding Conte was, including in training.
"It is not only in the match with Conte. It is all day, every training session. He is like a police sergeant," he told the Daily Mail .
"We felt something very special in his atmosphere, for three years with him at Juventus and two years in the national team.
"When you finish training, you are dead. Not tired – dead."
However, the 33-year-old explained that the players are willing to go through it all because of the enormous belief they have in Conte's process. 
"You can do it only because you believe in what he does," the centre-back said. 
"We had 40 days in France and it was like entering another world. You are 100 per cent with him.
"He creates an atmosphere, everyone gives energy to each other. For sure he is one of the very best."
Conte's Chelsea are back in action against West Brom on Monday.