Cobh Ramblers
Cobh Ramblers ask supporters to #JoinPaul this season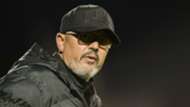 The 2017 League of Ireland season is fast approaching and clubs are busy encouraging fans to join them on their journey.
There are all sorts of ways to engage supporters and Cobh Ramblers - a former club of none other than Roy Keane - have utilised intrigue on social media over the past few weeks to capture the attention of would-be followers.
The #JoinPaul hashtag has been prominent on Twitter, with people such as Ramblers manager Stephen Henderson and two-time Republic of Ireland international Stephen O'Halloran getting involved.
After whipping up interest across Ireland and abroad, Paul's identity has finally been revealed in a clever video.
It's safe to say that Paul loves Cobh.
The Cork based club narrowly missed out on promotion to the Premier Division in 2016, losing at the play-off stage, and they are keen to make another push this season.
Check out the video above to find out about Paul. Will you be joining him at St Colman's Park?!