Branislav Ivanović
Chelsea's Ivanovic has 'several offers' as he is set for a January move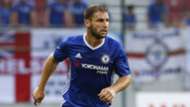 Branislav Ivanovic looks set to leave Chelsea, and has offers from Zenit St Petersburg as well as three other Premier League to consider before leaving Stamford Bridge. 
Goal understands that Chelsea and Ivanovic have yet to finalise any move, but that talks are ongoing between 'several clubs' and that a move is expected to be announced in the next few days. 
Rooney's Man Utd career now in doubt
Nathan Ake was promoted into the first team squad at the expense of Ivanovic for their match against Hull City - the first time that the 32-year-old failed to make the first team squad under Antonio Conte, despite being fit to play. 
Kurt Zouma's comeback to fitness also adds extra competition in the squad for the Serbia captain, and it is expected that he will be let go on a free transfer - similar to John Obi Mikel's move to China.
Chelsea have hung up a permanent display for Ivanovic outside the stadium on the original wall of the Shed End, and the defender is regarded as a club legend having won every major European and domestic honour in his time at the club. 
Ivanovic was open for a Chelsea stay at the start of January, but a lack of opportunities in recent weeks has caused him to consider his position more seriously, despite his love for the club. 
Bournemouth also have an offer in for Asmir Begovic that Chelsea are willing to accept, but they are looking to find a replacement for him, before sanctioning the move.