Primera División
Viva España! - Real Madrid show Spain support after referendum violence in Barcelona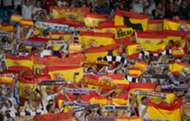 The Santiago Bernabeu and Camp Nou were worlds apart on Sunday. While Barcelona played behind closed doors in protest at the brutal violence by Spanish police in Catalunya, Real Madrid's stadium was a show of support for Spain later on in the day.
Hundreds of people were hurt in Catalunya after heavy-handed tactics from police forces sent in from all over Spain to halt the referendum for independece, considered illegal by the Spanish state.
Real Madrid 2/5 to beat Tottenham
Barca had wanted to postpone their match against Las Palmas amid safety concerns, but were told by Spain's Professional Football League (LFP) that they would face losing six points if they failed to go ahead with the fixture.
The violent scenes shocked the nation, and after Barca beat Las Palmas 3-0 in front of an empty Camp Nou, there were protests all over the country, including a massive demonstration in Madrid's Puerta del Sol.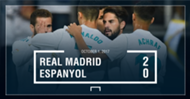 However, the mood at the Bernabeu was rather different. Up against Espanyol, the only professional Catalan club that has stayed quiet in the lead-up to the referendum, Real Madrid's fans brought Spain flag and sang songs in support of their nation.
Before the match, supporters were handed out cards with the message "Todos somos España" ("We are all Spain") and those were held up in the 12th minute amid chants of "Viva España!" ("Long live Spain!")
Those went on throughout a match in which Madrid did not play well and, at times, it appeared that the team's problems at home may continue. Prior to this game, Zinedine Zidane's side had failed to win any of their Liga fixtures at the Santiago Bernabeu so far this term.
Two very good goals by Isco made sure that Los Blancos did end up with a win, however, although Espanyol came close to scoring on several occasions in something of a subdued showing from the home team.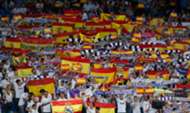 Prior to the game, Madrid fans consulted by Goal were divided in their opinions of the events in Barcelona, some saying that the Catalans should have played in front of their supporters on Sunday, while others were more supportive of the Catalans' plight.
Inside the Bernabeu, there were a few Catalan flags among the travelling Espanyol supporters, but hundreds of Spanish flags held aloft by the Madrid fans — especially in the animation stand behind one of the goals.
There is no love lost between Barca and Madrid, of course, but supporters of Los Blancos were keen to show their colours on Sunday. And despite the unseemly scenes in Catalunya earlier in the day provoked by the police, the message from madridistas was clear — they are Spanish and proud of it.