Colombia
Cardona apologises for 'slanty-eyed' gesture during South Korea clash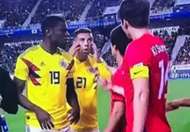 Colombia star Edwin Cardona has apologised for offending the "spectacular" people of South Korea after making an alleged racist gesture during Friday's friendly. 
Cardona mocked the opposition with a 'slanty-eyes' gesture as his nation were beaten 2-1 in Suwon, with both goals coming through Tottenham's Son Heung-Min.
The Boca Juniors player was not sanctioned during the game, but his actions were widely condemned after the final whistle. 
And although he insists no offence was meant, Cardona issued an apology to Colombia's hosts during this international break. 
"I didn't mean to disrespect anyone, a country or a race, but if anyone felt offended, or interpreted it in that way, I am sorry," he said in a video published on the Colombian national team's official Twitter account.
10 de noviembre de 2017
"We are extremely grateful to the Korean people, Korea has been spectacular from day one.
"I want to say I am not an aggressive person, I am sorry that something that happened during the game has been misinterpreted."
The controversy marks an eventful week for Cardona, who could face an international suspension of up to five games if he is found guilty of racist behaviour. 
The Boca playmaker opened the scoring for his club with a brilliant free-kick in Sunday's Superclasico against River Plate, but later was sent off due to a questionable elbow on Enzo Perez.