Transfers
Cape Town City reject Turkey's bid for Lebogang Manyama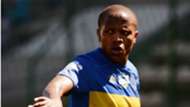 Cape Town City boss John Comitis has turned down an offer from Turkey for attacker Lebogang Manyama.
With only a few hours remaining before the 2017 July/August transfer window closes, speculation has been rife regarding the future of Manyama.
It has previously been reported that the 26-year-old was on the radar of Mamelodi Sundowns, but reports of a potential move abroad recently emerged .
However, while Comitis has confirmed that Manyama had an offer from a topflight Turkish club, he has stated that he turned it down as he was not happy with the offer.
"Manyama had an offer from a Turkish side," Comitis told The Star without revealing the team's name.
"I'm not happy with the offer. We have to wait and see whether they will come with something better or not. He is a quality player and he should be transferred at the right price," he said.
Meanwhile, Sundowns have been long-term admirers of Manyama, but Comitis said that they have not received any offers locally and were also not willing to sell the player to another Premier Soccer League club.
"I won't sell Manyama to a local team. In fact, there are no offers for Manyama in South Africa. Even if there were any, I don't have any intentions of selling Manyama locally," Comitis explained.
Comitis' side have enjoyed the best possible start to the new season, and while he has acknowledged that there is still room for improvement, he has admitted that it is unlikely that they will sign anyone before the transfer window closes on Thursday.
"I'm happy with the progress of the team though I feel we can even get better. We are winning but we are not playing good football. I want to see the combination of good football and the results. At this stage, it is highly unlikely that we will make a signing ahead of the transfer window closing on Thursday," Comitis concluded.