Chelsea
Cahill hits out at hypercritical Chelsea critics quick to hail Liverpool and Spurs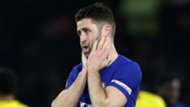 Gary Cahill says criticism of Chelsea is "tiring", with hypercritical doubters quick to hail other sides positioned around the Blues in the Premier League table.
As defending champions, much was expected of the Blues this season and they have flattered to deceive.
Antonio Conte has fallen under mounting pressure as a result, but a top-four finish and major silverware is still a real possibility for those at Stamford Bridge.
Cahill believes that makes the intense scrutiny placed on Chelsea unfair, with the likes of Liverpool and Tottenham – who have been widely heralded – having fared little better in the grand scheme of things.
The Blues skipper told the Evening Standard: "I'm not knocking Liverpool and Spurs whatsoever because they have played some fantastic football and have some terrific players.
"But you put it into context — we are sandwiched in the middle of those two and yet everything seems rosy there and it's all drama and a disaster here. It's been that way a lot of the time since I have been at Chelsea and it does get tiring.
"In 2016 we finished 10th. Then the next year we dominated the League. Things like that stick in your memory when you have difficult times like this. 
"When there has been a down at this club, we have bounced back in a fantastic manner. Going forward I see no issues."
Chelsea sit third in the Premier League standings at present, one point behind Liverpool and one in front of Spurs.
Securing Champions League qualification remains a top priority for the Blues, with domestic cup and European adventures providing a welcome distraction in the hunt for more major trophies.
Cahill added: "Finishing in the top four is a bare minimum for a club like Chelsea.
"It is the least we would expect from this season."
Chelsea's season is likely to be shaped by their efforts over the next few weeks, with key fixtures approaching across multiple competitions.
An FA Cup fifth round meeting with Hull City is next on the agenda, with that contest followed by the first leg of a Champions League last-16 encounter with Barcelona and back-to-back Premier League battles with Manchester giants United and City.