CAF Champions League
Caf Champions League: Polack needs more time with Gor Mahia players
11:13 PM GMT+8
13/08/2019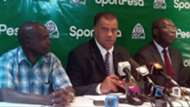 Gor Mahia head coach Steven Polack is not upset with the 0-0 draw against Aigle Noir of Burundi in the Caf Champions League preliminary round match in Bujumbura.
Polack oversaw his new players for the first time in a competitive tie. Polack believes Gor Mahai will finish the job on August 23 when the second leg will be played in Nairobi.
"I want to be the number one with the club not just in local competitions in Kenya but also on the continental scene. Against Aigle Noir, we had our chances and perhaps one goal should have been scored but a draw away is fair enough away from home. The tie is there for us to take and that is what we are going to do at home," Polack told The Star.
The British-Finnish coach also hopes K'Ogalo will use the Kenyan Premier League (KPL) Super Cup match on Sunday as a build-up exercise before hosting Aigle Noir.
"We played on Sunday [against Aigle Noir] and face Bandari in the Super Cup this weekend. That will be sufficient to prepare us to the level we want to be. In between, I want to spend more time with my players on the pitch so that they know me and I know them. I want them to buy into my philosophy fully so that I can fully implement my strategies," the former Asante Kotoko coach explained.
Apart from continental duties, Polack will be tasked with helping Gor Mahia defend their KPL title especially after the departure of key players before the 2019/20 season kicks-off.