Eintracht Frankfurt
Boateng wants change of first name after spotting mistake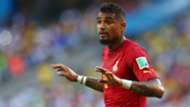 Ghana and Eintracht Frankfurt midfielder Kevin-Prince Boateng has revealed that there was a mistake on his birth certificate which resulted in his change of name.
The 30-year-old says he should have been called Kelvin instead of Kevin after the registrar at the birth and death certificate office misspelled his name at the blind side of his parents.
He was born in West Berlin, Germany to a Ghanaian father and a German mother.
"I should actually be called Kelvin and not Kevin as widely known in the world of football," the former AC Milan star told Hit Radio FFH.
"I do not like my first name. There was a mistake in the birth certificate and nobody knows that yet. I should actually be called Kelvin. That would of course have been a top name: Kelvin-Prince Boateng.
"I would not have had to play football at all, because the name alone is already stellar. And then they wrote that wrong in the hospital.
"So my name was Kevin and then it stayed like that. My mom was operated immediately after birth and could not intervene. I broke her pelvis when I came out. I really wanted to get out," he added.
Boateng, who previously represented Premier League clubs Tottenham Hotspur and Portsmouth, was part of the Ghana squad that played at the 2010 and 2014 Fifa World Cup.
He boasts of 15 appearances and two goals but last represented the country in 2014.