NPFL
Biffo pleased with Katsina United friendly win in Niger Republic
11:54 PM GMT+8
13/11/2017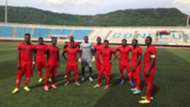 Katsina United head coach Abdullahi Biffo is impressed with his side's 3-1 victory over Niger Republic side, Jangorzo FC in a friendly game on Sunday.
The Chanji Boys got the lead through Ibrahim Nurudeen before the hosts took advantage of a defensive error to level matters.
Micah Ojodomo, who assisted the visitors' opener, fired home on receiving a pass from Debo Fashanu to recover his side's one-goal lead before the halftime.
In the second half, Adah Stephen set up Joshua Agboola who wasted no chance in converting from close range to secure the third and seal the victory.
"It was a nice preparatory match ahead of the pre-season Gold Cup Tournament in Ilorin," Biffo told media after the game.
"We just wanted to use the match to ascertain the fitness level of our players. But they have been able to prove to me now that they are ready and good to go from what I have seen here.
"This is my first match in charge of the team and I am extremely happy that I got a positive result to kick start my time with Katsina United.
"I am impressed with the performance of my team. It was a game full of action with both teams displaying good football artistry early in the game," he concluded.
Katsina United are expected to depart for the Gold Cup pre-season tournament in Ilorin on Tuesday.