Premier League
Better than Ter Stegen and Bravo? Valdes back to his Barcelona best at Boro
11:39 PM GMT+8
21/11/2016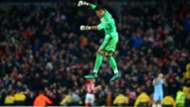 ---
COMMENT
---
Aitor Karanka first approached Victor Valdes about joining Middlesbrough at the tail end of 2014. The Spanish shot-stopper was still searching for a new club, six months after leaving Barcelona, yet dismissed the idea of moving to Teesside out of hand. "He told me I was crazy," Karanka revealed.
Courtois earns £100,000 per save
However, when the Boro boss tried again during the summer, Valdes was far more receptive to the idea. A lot had changed in the intervening 18 months. Firstly, Boro had earned promotion to the Premier League. Secondly, Valdes' stock had fallen, dramatically. He felt it too. When he spoke with Karanka in July, he told the former Real Madrid defender that he was no longer "the Valdes of Barcelona".
It was easy to understand why his confidence had been shaken so severely. Having taken the decision to quit Camp Nou at the end of the 2013-14 season, he saw his hopes of a glorious send-off cruelly ruined by an injury that not only ended his club campaign in March, but also robbed him of the chance to travel with Spain to the World Cup in Brazil.
Far worse was to follow, though. When Valdes was finally fit to resume his career, there were surprisingly few interested parties. Eventually, a familiar face came calling, Louis van Gaal. The then Manchester United boss, whom Valdes had personally thanked for launching his career in his goodbye letter to Barca the summer before, offered the Catalan the chance to train with the club as he worked his way back to full fitness before then offering him an 18-month contract in January 2015.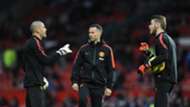 Although signed as a back-up to compatriot David De Gea, Valdes was grateful for the support of his former mentor and optimistic about re-establishing his reputation as a world-class goalkeeper.
However, the pair fell out spectacularly, with Van Gaal ostracising Valdes at Old Trafford for allegedly refusing to play in a reserve game. He was banned from the dressing room and forced to train alone with Academy goalkeeping coach Alan Fettis.
Premier League Team of the Week
Valdes was beset by fear, loneliness and paranoia.
"What if I were to hit the post and were to lose consciousness, and if I swallowed my tongue?" he asked Fettis during one of their training sessions.
"I've got my phone in my pocket, I'd call and they'd come to help you," came the reply.
That was of little comfort to Valdes, who responded: "I feel very alone."
The World Cup winner's mood only darkened further after the collapse of a proposed move to Besiktas in the summer of 2015. Valdes felt more desperate than at any previous point in his career, so he didn't think twice about accepting a six-month loan stay at Standard Liege at the turn of the year.
Bieber stars in Barcelona training
"Here, I am happy just to be in the dressing room," he admitted after his move to Belgium. "For me [Standard], are the best club in the world."
Valdes was, thus, left reeling once more when Standard decided to bring an abrupt end to his time at the Stade Maurice Dufrasne. He had helped his new side win the Belgian Cup in March but Standard explained that they wanted to give their young players more first-team opportunities, leaving Valdes in limbo again.
Unwanted in both Liege and Manchester, the three-time Champions League winner's career seemed in very real danger of unravelling. However, Karanka still had faith in Valdes - even if nobody else did, including the player himself.
"I had no doubt in him, even during the worst moments," Karanka told BBC Tees. "I knew he was a brilliant player."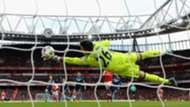 Valdes is now proving himself exactly that. After an unimpressive start to his Boro career - an early hamstring problem did not help - the 34-year-old seems to have rediscovered his very best form.
He was the man of the match in last month's excellent scoreless draw with Arsenal at the Emirates and flawless in the following weekend's crucial win at home to Bournemouth.
Kroos reacts to Goldberg's WWE return
Valdes was inspired once again as Boro claimed a surprise point away to Manchester City on November 5 and, although they were beaten by Premier League leaders Chelsea on Sunday, the Catalan still made headlines courtesy of a stunning save from Pedro.
Few observers could believe what they had seen but Karanka wasn't surprised; merely vindicated. He knew all along that the Valdes of Barcelona had never gone away.
"He's had difficult moments in his career and life but now he's playing at his best," he enthused. "He's brilliant on the pitch and in the dressing room as well."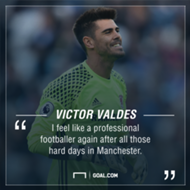 Valdes, meanwhile, is just delighted to have his confidence back. "I feel like a professional footballer again after all those hard days in Manchester," he admitted.
"I don't have any bad words for Van Gaal or Manchester United. They helped me through my injury and the manager gave me my chance as a footballer at Barcelona and then again at United.
"He's like a father figure to me. I don't want to remember the last six months in a bad way – for me he is in the top. We are still friends and there is no problem between us.
Will Coutinho be Iniesta's successor?
"But I want to say in a public way thank you to the Under-21 coach Alan Fettis – without him I may have given up football.
"He made me keep going and stopped me when I was thinking about bringing my career to an end.
"Sometimes at United I thought 'I don't need this', but I am a fighter and a professional."
Confirmation, as if it were needed, that the Valdes of Barcelona is well and truly back.