Ghana
Betrayal and Neglect: Olele reacts to stroke-ridden Agogo claims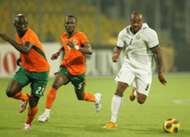 Former Ghana shot-stopper and current Black Stars goalkeeping coach, Richard 'Olele' Kingson, apologizes to ex-national striker Junior Agogo for their neglect of the erstwhile frontman who is presently battling stroke.
Now struggling with speech due to a condition known as aphasia, the recuperating 38-year-old suffered the setback in January 2015 after hanging up his boots.
In a BBC documentary on Sunday, the former Queens Park Rangers centre-forward revealed having lost contact with his footballer friends since the unfortunate incident.
"I read the story today," Olele told Ghana Web.
"Personally, he is a good friend – when we were in the national team, especially [during Afcon] 2008, we were together as good friends but along the line, I lost his contact. I also feel sorry for him.
"Sometimes when you have friends from the beginning and you think these are your friends and later they betray you like this, it's very painful, so I understand him."
Agogo is famously remembered for his exploits for Ghana at the 2008 Africa Cup of Nations, particularly the late winner against arch-rivals Nigeria in the quarter-finals.
He netted three goals in the tournament.
"I'll just encourage him to move on, help himself to be stronger than before so that he can overcome the sickness," Olele added.
"I will like to apologize [on behalf of] some of the players because some of the players also talk to him. So those who don't have the privilege to talk to him, I will take the opportunity to stand on behalf of them and apologize to Junior Agogo and his family [for] neglecting him at this point.
"But all the same, I believe that we are in spirit with him, so we wish him a speedy recovery."
In all, Agogo scored 12 times in 27 matches in all for Ghana between 2006 and 2009.
"Now, nobody gets in touch with me," Agogo said in the documentary, when asked whether he is still in touch with the likes of Michael Essien, Didier Drogba and Samuel Eto'o, whose framed jerseys adorn his walls at his UK home.
"I don't know [if it is because I do not get in touch with them] because I used to talk to a couple of the boys in the national team but when the stroke happened, they all said no… because I couldn't speak."