Transfers
Bellerin shrugs off latest Barcelona talk after U21 heartache with Spain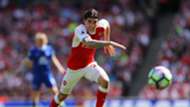 Hector Bellerin has reiterated that he remains under contract at Arsenal amid the latest round of Barcelona transfer rumours.
Speculation continues to suggest that the Catalan native will be returned to his roots at Camp Nou this summer.
Suarez wants Bellerin at Barca
The window has now opened, which means recruitment activity across Europe can be stepped up.
Bellerin is likely to remain at the centre of exit talk, but the 22-year-old is reluctant to be drawn into a debate regarding what his future could hold.
He told reporters after suffering a 1-0 defeat to Germany in the final of the European U21 Championship: "I have a contract over there [with Arsenal], I have to report back for pre-season and now is the time for me to just enjoy with my team-mates in Spain for a few days.
"Enjoy time with the family, have a little break and see each other next season."
Bellerin committed to a new long-term contract with Arsenal in November 2016.
Barca mull Cuadrado as Bellerin stalls
That agreement is due to keep him tied to the Gunners until 2022, but Barca continue to be heavily linked with a £45 million approach.
The Spaniard has made 114 appearances since making the breakthrough in north London, with his decision to leave La Masia in 2011 justified by regular first-team football.