David Beckham
David Beckham: I was brought up to love the royal family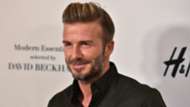 David Beckham has revealed his love for the royal family as prepares to act as an ambassador for the Invictus Games in Sydney.
Beckham is due to travel to Australia this week to offer his support to friend Prince Harry, who founded the Invictus Games four years ago.
The former England captain also attended Harry's marriage to Meghan Markle earlier this year and admits his love for the royals stems from childhood.
"It was such a great day for the family and such a great day for our country," Beckham told Australia's Channel Ten.
"I was brought up in my household to love the royal family. My nan was the biggest fan of the royal family and it was passed down to me. So we are very proud of that."
Beckham also revealed his respect for the work Harry has done in launching the Invictus games, which aims to help the rehabilitation of wounded armed service personnel and veterans through sport.
"With Harry to have come up with something that changes people's lives is incredible. I'm going over obviously as an ambassador of the Games but I'm really going over as a fan," Beckham signalled
"Sport is such a powerful tool to give them the opportunity to get over the injuries and the hard times they have been through."
It's now five years since Beckham retired from football and at 43 years old the former Manchester Utd winger admits keeping himself fit is increasingly tough, though looking after his four children keeps him busy.
"It's a struggle when you get older, waking up in the morning getting all the kids out of the door and out of school on time. I want to set the right example for them," he added.
"You don't have to spend a lot of money going to the gym. Three or four days I week I walk my daughter to school instead of driving or sometimes she bikes back with me to school. It's the little things that actually make a real difference."
Speaking of his daughter, Harper, Beckham says she may be the only one of his four siblings to continue his footballing legacy.
"She plays on a Sunday, she enjoys it. None of the boys actually play anymore apart from in school so maybe it's going to be my daughter?"