Transfers
Baxter denies making demands to Safa before taking the Bafana job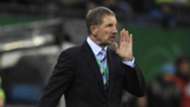 SuperSport United coach Stuart Baxter admits that he made recommendations to the South African Football Association (Safa), but denied reports he told the country's FA that his son Lee has to be the goalkeeper coach if he's to accept the coaching role of at Bafana Bafana.
"All the stories that I am holding Safa at ransom because I want my son to be working there... I made recommendations to Safa, but I have not mentioned my name yet," Baxter told the media.
Safa has been searching for Shakes Mashaba's successor over the past three months.
"Maybe someone has a five percent and 95 percent... an interesting story, I could address a lot of them but not in this forum," Baxter said.
Baxter is expected to make a decision before the end of this week as to whether or not he will take the job.
"There has been so much written but anything suggesting that the deal was done and dusted a long time ago is completely untrue," he said.
"Over the next couple of days there will be a yes and no from all of us," Baxter said.