Barcelona
Barcelona's Madrid-baiting defender Pique revealed to have a Real shirt at his house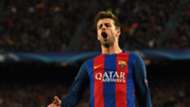 The wife of Real Madrid midfielder James Rodriguez has revealed that Barcelona defender Gerard Pique is the owner of a Blancos jersey.
The Spain international is renowned for his love of all things Catalan and apparent dislike of Barca's fierce rivals from the capital.
Xavi: Ronaldo trumped by Messi
He has taken great pleasure down the years in causing Madrid maximum pain, both on the field during epic tussles for trophies and away from it with his comments in the media.
Pique is, however, unable to control the decisions of his son, Milan, and that has resulted in the presence of a Real shirt at his house.
Daniela Ospina told Colombian magazine Don Juan on a meeting with compatriot and Pique's other half, Shakira: "Once in Barcelona, I met Shakira and her children, Salome [James' daughter] was happy because she's a megafan of her, and so am I! Haha!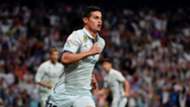 "Shakira, in a second, said to Milan: 'Look, she's the daughter of James!' And Milan said: 'I have the James 10 shirt'."
Daniela Ospina is the younger sister of Arsenal goalkeeper David.
No Barca or Madrid bids for Theo
She has also revealed that she also harboured ambitions of playing football as a child, but saw her mother ban her from playing.
Ospina is now a close follower of James' career, with speculation suggesting that he could be on the move when the summer transfer window opens.