Gareth Bale
Bale expects 'feisty' derby with England after Wales open with a win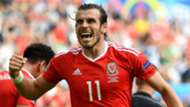 Gareth Bale says he expects a "feisty" fixture against England on Thursday after Wales' 2-1 win over Slovakia in Group B.
The Real Madrid attacker scored the opener on Saturday as Wales recorded a victory in their first major tournament fixture in 58 years, with Hal Robson-Kanu netting the winner 10 minutes from the end.
And as the Welsh turn their attentions to the battle with their British rivals in Lens, Bale admits he expects a memorable atmosphere.
"We understand it's going to be a derby, it's going to be feisty, but we're going to prepare well now. We'll concentrate on ourselves, on nobody else," he told reporters on Saturday.
"For us we are just going to concentrate on the next game, we want to win the game and we want to play well and do everything we did today. We'll be preparing now over the next four days, and regardless of who it's against we'll just try to win it."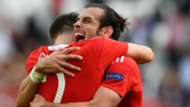 The 26-year-old added that the victory over Slovakia in Bordeaux was a triumph for the togetherness and focus of his team, despite Bale himself courting much of the personal glory.
"On a personal note it's great to get the goals but as I've said before it really doesn't matter who gets the goals," Bale said. "We just want the points, we want the wins, we want to go as far as we can in this tournament. We're all together, we all work for each other hard. As I've said many a time, it's about the team, not about individuals.
"For us there was only one game and that was the Slovakia game, we weren't concentrating on anything else and we've worked hard as a team. We couldn't give anything more and we just gave everything for each other and that's why we got the result."
Bale also had a word for the hordes of travelling supporters who made the atmosphere feel much like a home game, and especially for their hearty rendition of the national anthem midway through the second half when Slovakia had Wales on the ropes.
He added: "There's no other fans like the Welsh. No other country would think of doing things like that to lift their team and we were under the cosh a little bit towards the end but the fans were our 12th man and pulled us through."