Germany
'Bailey prepared to wait for Germany' - Leverkusen star's agent reveals further Jamaican rejection
12:00 AM GMT+8
10/03/2018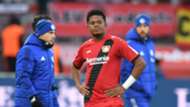 Leon Bailey's agent and adopted father Craig Butler has revealed that the Bayer Leverkusen winger has rejected Jamaica's latest international call-up, and is prepared to wait until he qualifies for Germany through residency.
Butler's sons Bailey and Kyle Butler were both invited to join the country of their birth for their upcoming friendly against Antigua and Barbuda, but will play no part in the fixture on March 25.
Instead, the duo will continue to 'focus on their club careers' due to dissatisfaction as to the way football is governed in Jamaica, with Butler disappointed that the Jamaican Football Federation (JFF) has not taken his structural suggestions on board.
Butler had previously claimed that Bailey could switch international allegiance to England ahead of this summer's World Cup, but does not meet the eligibility requirements to play for the Three Lions.
With Belgium also not an option at international level due to the fact that Bailey spent just two years living in the country, the 20-year-old's new home has come into the picture. FIFA rules state that a player must live in a country for five years to become eligible through residency, but this is extended to eight years in the case of Germany, meaning that Bailey would be 27 by the time he qualifies.
However, Butler believes that his son is prepared to wait as the problems with football in Jamaica show no signs of improvement.
"Leon and his brother have received invitations to join Jamaica's national team. I love my country and so do my boys. Unfortunately, my sons both declined the offer at this time," Butler told Goal.
"I have offered to show the JFF what I have learned from Belgium, Holland, Germany and even Slovakia on how to build a national program and fix the Jamaican football culture, but the JFF has refused to listen. Therefore, at this time, the boys will focus on their club careers.
"Leon and Kyle have British ancestry, Portuguese ancestry, have lived in Belgium and, in a few years, were Leon to stay in Germany, he too would qualify for Germany. My sons are only 20-years-old and Jamaica isn't going to be playing in this summer's World Cup. We have time.
"Each day that goes by it's another day he could qualify for another country if he chooses. It shows him as a man of substance and a leader; not a fool that runs and bows at the hands of people who have been corrupted by the economic restraints they face."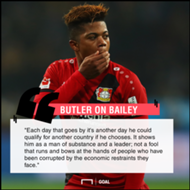 Butler's biggest problem with the JFF stems from the fact that their board is made up of elected officials from the parish associations, and therefore its members hold strong ties to their clubs when they should be working on a national rather than a regional or local level.
He believes that the players selected for the Jamaica national squad are selected because they play for the clubs that have connections to the board members. If these players are sold to England or Europe, the clubs stand to make significant sums of money from transfer fees.
According to Butler, this is the reason that Leon Bailey was never capped at underage level by Jamaica, having been excluded because of the fact he would not join one of the clubs connected to an influential board member.
"The only way the clubs can sell a player into England is to have national caps, and the governing body of the JFF selects the coaches of the national team and the technical directors," Butler explains.
"Leon, Kyle and all our players refused to leave and go to the clubs of these JFF board members when they were younger so they were never looked upon.
"Having never been capped for Jamaica, both players have the right to deny the request. The reason for this refusal to represent the Jamaica Football Federation is not because of a disassociation with me and the governing body of football. But because of a lack of a proper system of development and transparency in selecting players which has led to two of the most promising young men and others of high quality never ever before having been given the chance to represent their country at the youth or adult level."