South Africa
Bafana Bafana can beat Senegal with Sadio Mane, says captain Thulani Hlatshwayo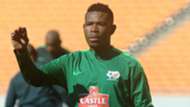 Bafana Bafana are set to lock horns with Senegal on Friday night in what is regarded as an all-or-nothing 2018 Fifa World Cup qualifier.
Ahead of the clash in Polokwane, much has been said about the threat which Senegal star attacker Sadio Mane poses, but one South African defender whose job will be to marshal the Liverpool man, is not fazed by facing off against such a threat.
Captain Thulani Hlatshwayo previously missed out on Bafana's resounding victory over Burkina Faso through injury, but this time around he is raring to go and believes Stuart Baxter's men can do the business at the Peter Mokaba Stadium, before travelling to Senegal for the return leg days later.
"I personally believe that we can do it (against Senegal) and as players' we know how important this game is for us'" Hlatshwayo told the media.
Despite Senegal possessing some of the continent's best within their ranks, Hlatshwayo believes that Bafana have nothing to fear and should take confidence from their previous result against another African powerhouse in Nigeria, earlier in the year.
"I would make you an example," he explained.
"We played Nigeria and they had all their big names' but we stuck to our game plan. We prepared well and we managed to get a positive result," he said.
"With the Senegal game coming' whether Mane is there or he's not there' as long as we stick to our game plan to make sure we execute everything well'" concluded Hlatshwayo.