Manchester City
Bad luck, Liverpool & Chelsea - De Bruyne return is bad news for Man City rivals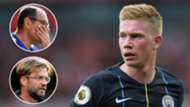 When Kevin De Bruyne's knee injury was revealed just five days into the season, certain Liverpool supporters celebrated.
They believed this was further proof that this is their year, that Manchester City's title defence would be blown off course just as it was beginning.
Jurgen Klopp wanted nothing to do with them - he called them "assholes".
He and most normal fans thought simply that City would have enough quality players to get by, no matter how influential De Bruyne is.
There was still a little doubt - De Bruyne is a special player, of course - but ultimately they were right.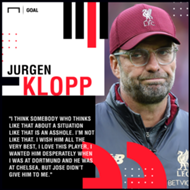 City have played seven of their eight Premier League matches without their best player, and yet they are still top of the table after Sunday's 0-0 draw at Liverpool.
It is close, but they are top. Chelsea and Liverpool trail only by goal difference but the worry for those two teams is that City have come this far without their talisman, and by the time the international break is over he will be back in action. That does not bode well.
It is tempting to say Liverpool and Chelsea have missed their chance, but they could not have done much more.
They, like City, have six wins and two draws.
Chelsea are looking good; better and more polished than many expected when Maurizio Sarri turned up in the summer promising a new brand of football. They had the better of last weekend's game with Liverpool, too, but the Reds found a way to draw.
Klopp's men are in a strange situation. They have not hit the heights of last season yet but they are also unbeaten and still in the mix. They looked second best to both Chelsea and City but, by hook or by crook, they came away with a point. In other games this season they have not been at their best but still found a way to win.
That is an admirable trait, of course, but if City set the standard again it is unlikely to be enough.
And, on the available evidence, Guardiola's men are still the team to beat.
The question back in the summer was whether the Blues could match last season's level. Could they avoid the complacency that has done for every champion over the past decade.
Guardiola spent the first weeks of the campaign keeping his players on their toes and his opponents guessing. Team meetings have been designed to focus minds and training sessions geared towards learning new formations and passing combinations.
De Bruyne has been the man who has most readily taken on board Guardiola's ideas and conveyed them to his team-mates, yet they have picked them up without him. Benjamin Mendy has been needed for most of City's most radical gameplans but even when he missed a month through injury they kept on winning.
Their rivals must wonder what it will take to stop them. 
Granted, City have not had the hardest fixture list so far but their performance at Arsenal on the first weekend suggested they have new attacking options and, on Sunday, they showed they may have even improved in defence.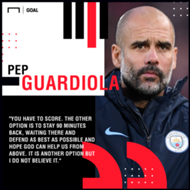 Heading into the game at Anfield the common feeling was that Guardiola's side would suffer another damaging defeat at the hands of Klopp's vibrant gegenpressers. The City boss reiterated his romantic stance on Friday, insisting he would go to Merseyside to attack. Many regarded it as foolhardiness. 
In the event it may simply have been a lie. City went to Anfield to take the sting out of the game. This was parking the bus - Guardiola style. City still played out from the back, of course, but they were smarter with it.
Guardiola set out his team in a way designed to minimise mistakes near their own goal, but without simply lumping it long and feeding off scraps. The idea was for his players to stay close together, to play short, relatively low-risk passes, restricting the spaces available to Liverpool's attackers.
The first 15 minutes suggested the plan would falter but once they weathered that early storm they looked comfortable. Considering most forecasts predicted a downpour of goals, and many of them for Liverpool, City's resilience at their bogey ground can be regarded as another string to their bow.
They tried to attack, too, and had Riyad Mahrez converted his late penalty it would have been a statement victory; City, after all, have won at Anfield only once since 1981.
Yet, while they could not break that hoodoo, they did put the brakes on another.
Had they suffered another Anfield blitz, their third in under a year, a complex could have developed. Klopp would have beaten Guardiola yet again, the narrative set for another season. The "assholes" would have felt vindicated.
But City are still standing, and still top. Chelsea and Liverpool have done well to keep up so far, but with De Bruyne back the chances are they'll need to do even better from now on.