Azam
Azam signs new sponsorship deal with NMB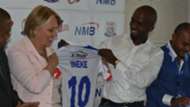 Azam, who won Ligi Kuu Bara once in the 2013/014 season have been enjoying the sponsorship for three seasons.
NMB Chief Executive Officer (CEO), Ineke Bussemaker and Azam FC (CEO), Abdul Mohamed, signed the contract in Dar es Salaam on Tuesday in a ceremony attended by other club leaders and the team's captain, Himid Mao.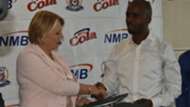 "We have been working together for a long time and in a positive and successful way for us and for Azam FC," she said.
"NMB is happy on this and that is why we decided to extend our contract," Ineke added.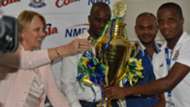 For his part, Mohamed said that the contract will continue to push the club to win local titles and international ones.