Bundesliga
Augsburg keeper bites off part of his tongue and plays on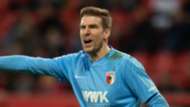 Augsburg goalkeeper Andreas Luthe played on despite biting off part of his tongue against Bayer Leverkusen, having already started the game with a broken finger.
The Bundesliga side were defeated 1-0 by a 75th minute Lucas Alario goal, but Luthe had persevered in pain between the posts after he took a knee to the face from Leverkusen forward Kevin Volland on the half-hour mark.
Speaking to Sky after the game he said: "The neck is a bit stiff and part of my tongue is gone. But that's no problem." 
Luthe has already built a reputation for playing through pain as he revealed in the summer that he has to wear a special glove because an old hand injury refuses to heal.
"The little finger is now so broken that I cannot leave it alone," he told Sport Bild during  Augsburg's pre-season training tour in South Tyrol, Italy. "That's why I always tape it to the ring finger. "
"I cannot imagine it any other way around now." 
Augsburg are on a difficult run, having lost their last four games, and have now slipped to 14th in the table. Next Saturday sees them take on 13th place Shalke in an important encounter if they are to distance themselves from the drop. 
Luthe was positive about his side's performance at Bayer, who are three places higher, but lamented the way Augsburg have been conceding too many goals in recent weeks.  
"We have delivered a decent away game, we are a team that can pin any opponent, as we have shown today," the keeper continued after the defeat. "But unfortunately we currently need too many ways to score goals and are punished mercilessly for our mistakes."
The 32-year-old joined Augsburg from Bochum in 2016 and started the season as second-choice keeper, but has become a regular since being handed an opportunity in the fifth game of the campaign.