Arsenal
Aubameyang can become one of Arsenal's great goalscorers - Wright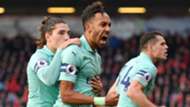 Arsenal legend Ian Wright believes Pierre-Emerick Aubameyang has what it takes to become an all-time goalscoring great for the Gunners.
The Gabon international striker joined Arsenal from Borussia Dortmund in January for a club record fee and has since scored 20 goals in 31 matches despite playing a chunk of his games on the left wing.
He heads into Sunday's North London Derby with Tottenham as the leader in the race for this season's Golden Boot having scored eight Premier League goals so far this season - the same as Manchester City duo Sergio Aguero and Raheem Sterling.
And Wright, who is Arsenal's second highest goalscorer of all time behind Thierry Henry, is delighted at how Aubameyang has left an immediate impact at Emirates Stadium, even if he is amazed at the rate in which the 29-year-old is finding the net.
"At the moment with him scoring 20 goals in 31 games he's going to be ranked number one!," Wright told Goal.
"He's had a phenomenal start to his Arsenal career. He's got him on the left hand side, but for someone who has not had a consistent run in the team his goalscoring return will be way up there on the goalscoring charts.
"The rate in which he's scoring is better than any of us. He's got to 20 goals in 31 games - it took me and Thierry 40. I thought at the time I was playing every single game, he's coming on as a sub. If he can continue scoring at this rate he probably be well up there in the goalscoring ranks."
Sunday's match with Spurs offers Arsenal the opportunity to move level on points with Mauricio Pochettino's side and stretch their unbeaten run in all competitions to 19 matches.
And Wright believes the positive momentum that the team have built up under Unai Emery could play a key part in them getting one over on their local rivals.
"Arsenal are improving," he said. "You only have to look at their away record from last season. They've scored more goals in the second half than anyone else In games. That says to me that Arsenal are not only physically stronger but mentally stronger as well.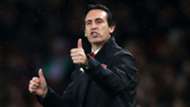 "People can say whatever they want about the manner in which they've gone on this 18 game unbeaten run but they're ready for this big test against Tottenham, just like they were against Liverpool. They're confident and have got momentum.
"He's [Emery] not resting on his laurels because 18 games is something you could be pleased with. He looks to me like someone is still a very much work in progress. That's why he makes the decisions he makes for the team. Because he knows they can get better and under him I think they will get better."
Wright, meanwhile, recently created his own YouTube channel and has been a staunch advocate of utilising social media to engage in healthy football debates.
"The platforms that I'm on now are the platforms I want to be on to get my opinion across.
"The thing I love about it even more is the personalisation of the whole thing and the feedback I get from people is that they're very much engaged it. I've always had a great affinity for fans.
"On a YouTube channel you know you're going to get genuine debates and genuine questions."
Ian Wright was speaking in partnership with YouTube. To check out his brand new YouTube channel, please head to www.youtube.com/ianwright