eSports
Aubameyang & Alexis headline newest 'Ones-to-Watch' in FUT
12:34 AM GMT+8
03/02/2018
EA Sports has unveiled the new batch of Ones to Watch players in FIFA 18 Ultimate Team, including the most notable transfers of the January window.
Ones to Watch players change ratings throughout the season based on the performance of their real players, and the in-forms they receive, thus making them some of the most sought-after cards on the market.
New Manchester United winger Alexis Sanchez headlines the current crop, with a base rating of 89, and is joined by his replacement at Arsenal, Pierre-Emerick Aubameyang, Barcelona's Philippe Coutinho, Atletico Madrid's Diego Costa and Tottenham's Lucas Moura.
Of course, not every FUT player can shop at the very top of the market, and thus there are some more affordable options available too, and their investments may prove shrewd.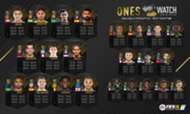 Everton's Theo Walcott, for example, netted twice last time out, while Brighton & Hove Albion's record signing Jurgen Locadia has the stats to take the Premier League by storm.
Several leagues are represented, with Michy Batshuayi's new Borussia Dortmund card featured, along with Valencia's Francis Coquelin and Ajax's Nicolas Tagliafico.
The players are available both on the transfer market and in packs from 6pm UK time on Friday, February 2, until next Friday!