Arsenal
'Arsenal need Ozil, Sanchez deals and then some' - Pires talks up big summer for Wenger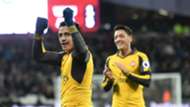 New deals for Alexis Sanchez and Mesut Ozil need to be just the start for Arsenal this summer, says Robert Pires.
Speculation regarding the future of two key men has rumbled on for several months at Emirates Stadium, with their respective deals allowed to tick down into a final year.
Neither has committed to fresh terms as yet, with Alexis generating plenty of transfer talk ahead of the re-opening of another window.
Former Premier League title winner Pires hopes both can be convinced to stay on, but acknowledges that fresh faces will also be vital after prioritising stability in the dugout by offering Arsene Wenger a new two-year deal.
'Aguero-Alexis swap is a minefield'
The Frenchman told reporters: "This summer for Arsene Wenger is very important.
"In my opinion, he needs to try to extend the contracts of Alexis and Mesut Ozil. This is the first thing, and after of course you need to sign new players.
"Everything has changed because we're not playing in the Champions League, but we must focus and look forward to the new season.
"The most important thing is to win the Premier League, for him, the players and the fans.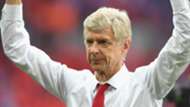 "I believe in Arsene Wenger, I believe in this squad, I believe in the young players like Alex Iwobi and Hector Bellerin.
"When I see the name on the paper or the squad, it's very good.
"Some players can play at a very high level and play for the national team.
Arsenal need to stump up for Lacazette
"Maybe Arsene Wenger [would like] two or three more players but the stability is here because he's extended his contract."
Wenger has previously stated that Arsenal are unlikely to do more than three deals this summer, and Sead Kolasinac has already been snapped up.
The Gunners are, however, being linked with several other high-profile stars, including Alexandre Lacazette, Thomas Lemar and Kylian Mbappe.