Premier League
Arsenal legend tips Nketiah for success
12:25 AM GMT+8
06/11/2017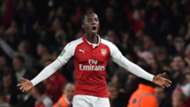 Former Arsenal striker Thierry Henry expects youngster Edward Nketiah to rise to the top following a promising start at Emirates Stadium.
The 18-year-old rose to prominence last month after scoring twice against Norwich City to send the Gunners through to the quarter-finals of the League Cup.
More spectacular was the fact that the teenager netted his first goal, an equalizer, just 15 seconds into his debut, before scoring the winner in extra-time.
"I worked with Arsenal's Eddie Nketiah when I was with the Under-18s and I was delighted to see him grab two goals in the Carabao Cup win over Norwich. Delighted but not surprised," Henry wrote in a column for The Sun.
"He is a great kid and was a pleasure to work with. He was always on time, listened hard and was a good worker, willing to learn and improve.
"He will always score goals, even when he's 60! He is just a killer in the box, as he showed against Norwich."
Still chasing his Premier League debut, Nketiah was handed his second Arsenal run as the Gunners were held to a 0-0 draw by Red Star Belgrade in the Europa League on Thursday.
"He's not a fancy player, all step overs and drag backs, but is just lethal in front of goal. He doesn't need many chances," Henry added.
"He gives and moves, is quick, he is a fighter — but in the right way — and has an amazing leap on him, as we saw for his second goal at the Emirates. 
"And he has just the right amount of confidence. If that guy plays, he scores. Simple."
An England youth international, Nketiah is eligible to represent Ghana at senior level due to his parentage.