Arsenal
Arsenal & Cologne to share scouting notes in bizarre Europa League agreement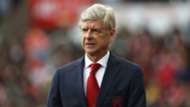 Arsenal and Cologne are in a bizarre agreement where they will share scouting details with eachother ahead of their Europa League group stage clash.
The Gunners have been drawn with the Bundesliga side in Europa League group H having finished fifth in the Premier League in the 2016-17 season.
It is the first time that Arsene Wenger has failed to claim a Champions League spot during his 20-year tenure at Emirates Stadium, which may explain the Gunners' approach to scouting their new opponents.
Cologne assistant Manfred Schmid has revealed that, having held talks with the north London club, they will share scouting information with eachother ahead of their meeting on September 14.
He told Bild: "We had a very good talk and a nice exchange of ideas. We will receive videos from Arsenal matches in the next couple of days, and we'll supply them with our material.
"It's easier for both sides. You can't stop opponents getting footage through other clubs or platforms these days, and so this just simplifies the match preparation."
The Gunners are currently 16th in the Premier League table having lost two of their opening three matches of the domestic season.