NPFL
Are the recent sanctions on NPFL clubs really effective?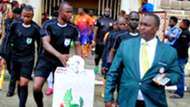 ---
COMMENT
---
The Nigerian Professional Football League has the potential to be one of the finest leagues in Africa, but its standing is undermined by consistent violent incidents that are a result of clubs' inability to accept when results don't go their way. This has led to officials and fans taking the law into their own hands and carrying out acts that shouldn't be in any way tolerated.
The League Management Company, charged with running the affairs of the NPFL, has largely been lenient, limiting their punitive measures to handing out fines and banishing teams to play in difference stadiums -- but still within the same geopolitical area.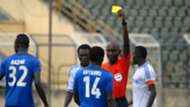 There have long been calls from supporters who are keen to see the NPFL improve for the LMC to hand out harsher punishments, but the governing body is yet to be any stricter.
However, things have changed this year, with Sunshine Stars already deducted three points for attacking match officials after playing out a goalless draw with four-time champions Kano Pillars in Akure. The Ondo State capital club have a reputation for crowd disturbances, and had to play a chunk of their games away at Ijebu-Ode last season as a result of supporter incidents.
LMC imposes 3 points deduction on Sunshine Stars for repeated breaches#NPFL18https://t.co/ERwsh3r7ym https://t.co/ObZxA2kSPd

— League Management NG (@LMCNPFL) February 17, 2018
The next team that fell to the heavy sanctions were newly promoted Heartland.
The Owerri outfit found it hard to accept their 1-1 draw with reigning NPFL champions Plateau United, and ended up assaulting the referee, leaving him seriously injured. The LMC acted and handed the Naze Millionaires a three-point deduction, while also forcing them to play behind closed doors and slapping them with a heavy N7.5 million fine.
Heartland have been docked 3 accrued points after crowd trouble incident vs Plateau Utd on Matchday 18 (1)#NPFL

— League Management NG (@LMCNPFL) April 27, 2018
The most recent incident was in the game between promoted sides Yobe Desert Stars and Kwara United in Damaturu. The game ended 1-1, which was joy for the struggling Ilorin side, who made the long trip up north, but the Yobe fans and club officials were not pleased, as their 100% home record had been ended, and decided to invade the pitch. Both the referee and the travelling Kwara contingent were subsequently ambushed.
The Desert Stars have been handed the same punishment as Heartland, but will pay a fine of N4.25 million.
Yobe Stars have been charged for breaching #NPFL Framework & Rules during their Matchday 19 game vs Kwara United on April 29 (1)

— League Management NG (@LMCNPFL) May 4, 2018
Sunshine Stars were punished back in February when the season was still young, and for two other major incidents to have occurred since then is a clear sign that clubs don't respect the sanctions.
There have been calls for stricter sanctions like increasing point-deductions from six to as much as 20 points as a way of forcing clubs to act correctly and exhibit better sportsmanship.
Deducting 3 points from Heartland is not enough if you ask me, take away 6 points and a suspended 3 points for any reoccurrence before the end of the league, the monetary fine is a charade, how will they pay when they won't get a kobo from the league @LMCNPFL

— OluDee (@Dare4xploits) April 27, 2018
The truth is that increasing sanctions might not change anything, because clubs generally have a mentality of winning games at home at all cost. This makes them employ whatever foul tactics possible in order to reach their aims, and if they don't succeed, resorting to violence is the next option.
So, #YOBKWA ended in a goalless draw and the players & officials of @KwaraUnitedFC were held hostage on the pitch, with threats falling on them left, right & centre.

The locals at Damaturu advised them to flee the town immediately or they will be brutalised.

— BPA (@BayoPsalm) April 30, 2018
It's a shame that club football in the country is taken like it's a political game where ruthless tactics are employed without having any regard for competitors.
Football is built on friendship and sportsmanship, and while refereeing standards aren't the best in the world, there is no excuse for violence. 
Imagine if Michael Oliver had been attacked physically by Juventus during their Champions League quarter-final defeat by Real Madrid!
The centre referee that officiated #YOBKWA was mercilessly beaten.
The players and officials of @KwaraUnitedFC were held hostage for 1 & half hours on the pitch before the police helped them get out safely.

— BPA (@BayoPsalm) April 30, 2018
Thank you @LMCNPFL, I appeal sanctions should also be meted to clubs that breach league rules as it relates to overdue payables, several complaints lodged with you that are yet to be attended to, the players are the main actors their welfare should be of utmost priority#NPFL18 https://t.co/IEyei2weHM

— Eddie Ogbemudia (@Donfiazo) May 5, 2018
While the LMC can be commended for taking this kind of action, they have been slow to act on areas including player welfare. The league framework states that clubs must pay players according to contractual agreements and failure to do this could mean heavy sanctions are imposed.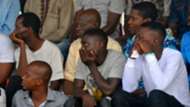 The LMC, however, seem to turn a blind eye to this, with clubs owing players a backlog of salaries and allowances.
It doesn't paint the right image for a league that should be top of the food chain, and It also explains why players are ready to move to just any league, even those that have lower standards than Nigeria, just out of desperation.
NPFL clubs must shy away from this kind of psyche, because it does not in any way help a league that is in dire need of growth and development.
These are some of the major setbacks, and until the orientation shifts to accepting results as they come while improving on squad flaws – something that is seriously lacking and is a reason for poor results – no amount of punishment will bring justice.