Liga MX
American Jose Torres happy to be champion with Tigres but unsure about future
11:22 PM GMT+8
11/12/2017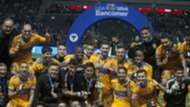 MONTERREY, Mexico — For the fourth time in his career, Jose Torres stood with a Liga MX winners' medal around his neck. The American midfielder was an unused substitute in Tigres' 2-1 victory over Monterrey which clinched a 3-2 aggregate victory and the club's sixth Liga MX title.
The Texas native has seen his playing time slide since the 2014 Apertura, culminating in a single league minute for Tigres this season. Still, he was ecstatic to celebrate his third title championship since joining Tigres from Pachuca in 2012.
"Unfortunately, I didn't play many games this season, but we're a team," Torres said. "Those on the field, those in the stands, those on the bench, everybody is a team. Together we move each other forward. We give everything in training and I think over the course of the season it showed and we ended up as champions."
Torres also played in three Copa MX matches for Tigres this season and often makes the bench, but manager Tuca Ferretti has rarely needed to put the 30-year-old into the side with starters Rafael Caricola and Jesus Duenas holding down the midfield spots. While Torres clearly would've liked to see more action during the season, he said he played his part on the training ground and in the locker room.
"It's a very united team, very united. When we lose, everyone loses," he said. "Nobody isn't affected, even if you scored goals. When we win, everyone wins, the whole club. The people who clean the stadium, the people who do the laundry, the kit man, that's the key to success."
Torres was a regular for the United States under manager Bob Bradley, but his last appearance for the national team came in the 2013 Gold Cup. Now 30 and with a glut of competition for places in the midfield, his future at Tigres seems uncertain.
"I don't know right now," he said. "I just want to enjoy this moment and then when I start preseason we'll see what happens. But right now I just want to enjoy this moment."