Mamelodi Sundowns
Alex Heredia: Emiliano Tade made right decision by joining Mamelodi Sundowns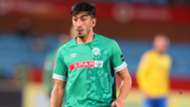 Following Emiliano Tade's move to Mamelodi Sundowns from AmaZulu FC on Wednesday, Argentine goalkeeper coach Alex Heredia has hailed his countryman's transfer.
Tade scored on debut during Sundowns' 3-1 win over Ivorian club ASEC Mimosas in the Caf Champions League Group A match at the Lucas Moripe Stadium on Friday night.
"Yes, he has the quality to play for any team in the country because he managed to settle down well in the PSL when he joined AmaZulu," Heredia told Goal.
"I am sure Sundowns coach Pitso (Mosimane) has been watching him and he knows what type of a player he is. I think he will be fine at Sundowns based on their type of football they play and his new good teammates will also help him to score goals," said the experienced coach.
"We know he is a great finisher and it is rare to find such strikers in the PSL and he will definitely help Sundowns. It's also good for his confidence that he scored on his debut," added the Argentine.
"That goal will help reduce the pressure that comes with playing for a big club. I think it's a good buy for Sundowns. I hope to see more goals from him because he is experienced when it comes to PSL football," backed the coach.
Heredia believes that Uruguayan winger Gaston Sirino and Brazilian defender Ricardo Nascimento will help Tade at the Tshwane giants.
"I think the two players will definitely play a big role when it comes to helping Tade understand his new teammates, the environment and how the team plays," continued Heredia.
"We know Ricardo joined Sundowns before Sirino and that means he is more experienced. He is an asset to the team and I am sure that they will ensure that Tade hits the ground running," he added.
"On the other hand, Tade is not a young boy anymore and he is level headed and professional. I am sure he will contribute very well especially in the Champions League," said the coach.
"Pitso will definitely bring out  the best in him. We can count many South Americans, who have done well at Sundowns. Tade's football will grow at Sundowns," concluded Heredia.