Al Wahda v Al Wasl
Al Wahda win the Arabian Gulf Cup for the second time in three years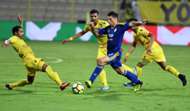 Al Wahda won the Arabian Gulf Cup for the second time in three years after defeating Al Wasl in the final of the 2017/18 edition at the Hazza Bin Zayed Stadium with a 2-1 score. Tareq Ahmed and Sebastian Tagliabue got the goals for them in the first half, before Al Wasl attempted a failed comeback in the second half.
In the 14th minute, Tareq Ahmed opened the scoring with a curled shot from the left flank to take advantage of the poor positioning in Al Wasl's defence. Then, in the 30th minute, Tagliabue scored a header from distance to make it 2-0 for Al Wahda, who held onto the lead until half time.
Ronaldo Mendes brought the score back to 2-1 in the 60th minute with a goal for Al Wasl, and things were looking bright for The Cheetahs when Al Wahda received two red cards – Ahmed Rashid in the 67th minute and Mohamed Al Menhali in the 81st minute.
However, Al Wasl failed to come back and lost 2-1 to continue their trophy drought, meanwhile Al Wahda earned their first trophy of the season.
مبروك ! #الوحدة_بطل_كأس_الخليج_العربي
Congratulations ! #WHDFC #FINALLive pic.twitter.com/nCciHHlX4B

— Al Wahda FC الوحدة (@AlWahdaFCC) March 29, 2018