WC Qualification Africa
Akunnor rejects calls for Gyan & Ayew brothers to retire
10:47 PM GMT+8
07/09/2017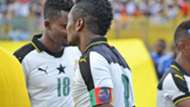 Ashanti Gold coach C.K Akunnor believes it's too early to call for the exit of Ghana captain Asamoah Gyan and the Ayew brothers from the national team.
The three players have come under intense criticisms in the past few days, after Ghana drew 1-1 with Congo at home in the World Cup qualifiers, and were not part of the team that won the return leg 5-1 in Brazzaville.
Some Ghanaians believe the trio have past their prime and should not be handed call ups by Kwesi Appiah in future.
"The selection Kwesi Appiah made against Congo was on point and I think going forward, he has to continue doing that to help the team win matches," Akunnor told Abusua FM.
"There's a time when players will come and go. Others will also come on board and pay their dues but for us to say that Asamoah Gyan and Ayew brothers, who didn't play on Tuesday, to retire prematurely isn't the best.
"I think the calls for the head coach to stop calling those players are unjustifiable because these same players you are calling for their exit are the same players who have won matches for the Black Stars in the past.
He added: "When you begin to do this, you retire players and they go with some bitterness which isn't good for the country. These players won't play for the national team forever. They will certainly leave but the question is should we just sack Gyan and the Ayew brothers simply because they performed poorly in one match?
"Absolutely no, that would be unfair to these players after all the years of commitment."
Andre Ayew was reported to have picked up a knee injury in the first leg while Jordan had stomach upset which ruled them out of the game but Gyan was spotted in Brazzaville offering support to the team from the stands.