Ajax v Manchester United
Ajax sensation Dolberg breaks fan's arm with wayward shot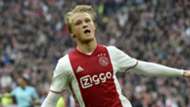 Kasper Dolberg has hit the target 23 times this season, but one wayward warm-up effort saw the Danish striker break a supporter's wrist.
The 19-year-old has starred for Ajax in 2016-17, earning him widespread acclaim and reports of interest from Manchester United.
Dolberg will lock horns with the Red Devils in the Europa League final on Wednesday, with his Dutch club looking to him for inspiration in the final third.
Dolberg rules out Utd or City move
He has provided that on numerous occasions since breaking through in Amsterdam, but did end up sending an unfortunate fan to casualty on his last appearance against Willem II after firing a wild pre-match shot into the stands.
Stijn Udo, the supporter in question, explained to AT5: "It was going very fast. The ball hit my wrist very hard.
"At half-time, I went to the first aiders, they gave me a bag of ice, but I did not want to miss the match. Ajax could have become champions!
@kasperdolberg Can you please don't shoot over the goal during warm up? I was behind the Willem II goal and now have a double wrist fracture pic.twitter.com/JpSF9NgXfF

— Stijn Udo (@StijnU) May 16, 2017
"After the match, I went to the hospital. First I thought it was a bruise, but after taking x-rays, it turned out that I broke my wrist in two places."
Ajax have offered their apologies to Udo and intend to reward his loyal support in some way, although tickets to Wednesday's Europa League clash in Stockholm may be a little optimistic.
Lyon chief hails Dolberg as 'great talent'
"They will send me a little something, but I do not know what yet," added Udo.
"Two tickets for the final on Wednesday? Yes, that would be nice, though it will be difficult because I cannot drive with my wrist."
Ajax beat Willem II 3-1, with Dolberg among the scorers, but they missed out on the Eredivisie title by one point to Feyenoord.