India
AIFF election row: Subrata Dutta fears FIFA suspension, Usha Nath Banerjee says no chance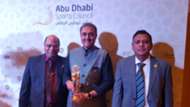 Senior Vice President of the All India Football Federation (AIFF), Subrata Dutta, admitted fears of getting suspended by the world football governing body FIFA in the aftermath of the Delhi High Court ruling earlier today.
The Honourable High Court of Delhi, on Tuesday, passed the order to set aside the election of Praful Patel as the President of AIFF as it violated the National Sports Code. The court order also called for fresh elections within five months.
"Every year, two three federations get suspended by FIFA. We also have the fear of suspension and we will discuss the issue with FIFA. It's hard to balance between the AFC rule and the National Sports Code," Subrata Dutta told Bengali news channel 24 ghanta.
However, as former Chief Election Commissioner of India Dr SY Quraishi prepares to take charge as the makeshift administrator of AIFF, Goal spoke to senior advocate and former legal advisor to sporting bodies BCCI and AIFF, Usha Nath Banerjee, who dismissed the possibility of a suspension by FIFA.
"No, there is no chance of that [suspension by FIFA]. This is a separate legal matter which will be solved internally. It has nothing to do with FIFA," said Banerjee, who also headed the special seven-member committee set up by AIFF to look into transfer dispute in the Ruidas saga.
FIFA had suspended Pakistan Football Federation (PFF) with immediate effect earlier this month, on account of undue third-party interference. PFF offices and its accounts remain in control of a court-appointed administrator which goes against FIFA statutes.
It remains to be seen how the global governing body reacts to the developments that have shaken Indian football on Tuesday.