KPL
Agitated AFC Leopards coach describes 'Mashemeji' derby agony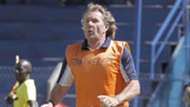 AFC Leopards head coach Stewart Hall is a sad man after his side were defeated 3-0 by arch-rivals Gor Mahia in a 'Mashemeji' derby played on Sunday at Nyayo Stadium.
The Englishman was experiencing his first 'Mashemeji' derby and his hopes of winning the bragging rights flew with the air when K'Ogalo openly outclassed his boys.
While confessing that he has never been beaten like that in his entire career, Stewart admitted that his players were completely lost in the match describing them as 'scared rabbits' who never had any ideas of handling the domineering Green Army.
He further explains that the boys worked like an energy-deprived device whose end-rest was inevitably a defeat. "As a coach I've never been beaten by three goals in my whole career so I don't like the feeling. That was a very very poor performance.
"If you can't pass the ball ten yards towards your players and you don't win the 50-50s in the headers then you got a big problem. They (Gor Mahia) won all the 50-50s, they won all the headers that mattered, the passing were better than us they were brighter and sharper than us. We were terrible; we were terrible, there is no excuse for that.
"If were we were an electronic thing I think you should say something took the battery out. We shit ourselves, we absolutely shit ourselves, because we couldn't handle the occasion. We couldn't handle the first 15 minutes, in the first 15 minutes when we were running like scared rabbits they got on top of the game, physically, mentally, everything.
Save for Bernard Mang'oli, Allan Kateregga and Paul Kiongera, the rest of players in the starting lineup of AFC Leopards had no derby experience, contrary to Gor Mahia whose nine players in the starting lineup had featured in the derby in the past. Only Wellington Ochieng' and Kenneth Muguna were newbies in the fixture.