Africa Cup of Nations
Africa Cup of Nations 2019 Fixtures: Complete guide to the Afcon fixtures
12:19 AM GMT+8
27/05/2019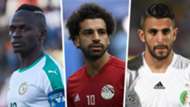 The 32nd edition of the Africa Cup of Nations is underway, and a compelling, dramatic group stage is in the books as 24 teams battle to be crowned continental champions.
16 teams have fallen, with Zimbabwe, Burundi, Tanzania, Kenya, Namibia, Guinea-Bissau, Mauritania and Angola all heading home in the group stage before heavyweights such as Egypt, Morocco, Ghana and holders Cameroon fell in the Round of 16.
Ahead of the Quarter-final bouts, Goal runs down all of the 2019 Africa Cup of Nations fixtures, including dates and times, and runs down the group-stage tables and results.
---
Africa Cup of Nations Quarter-finals
---
The quarter-finals will take place in four separate venues on July 10 and 11.
| Date | Match | Kick-off time (all local time) | Venue |
| --- | --- | --- | --- |
| Jul 10 | Senegal - Benin | 6pm | 30 June Stadium |
| Jul 10 | Nigeria - South Africa | 9pm | Cairo International Stadium |
| Jul 11 | Ivory Coast - Algeria | 6pm | Suez Stadium |
| Jul 11 | Madagascar - Tunisia | 9pm | Al Salam Stadium |
---
Africa Cup of Nations round-of-16
---
The first knockout stage of the Africa Cup of Nations consisted of 16 of the 24 teams - with two teams progressing from each one of the six groups and the four best third-placed teams also qualifying.
Morocco and Egypt provided the biggest surprises, as they were eliminated by Benin and South Africa respectively, while holders Cameroon were also ousted following a roller-coaster of a tie against Nigeria.
In the other heavyweight clash of the round, Tunisia defeated Ghana on penalties following a dramatic 1-1 draw.
| Date | Match | Kick-off time | Venue |
| --- | --- | --- | --- |
| Jul 5 | Morocco 1-1 Benin (4-1 P) | 5pm BST / 12pm ET | Al Salam Stadium |
| Jul 5 | Uganda 0-1 Senegal | 8pm BST / 3pm ET | Cairo International Stadium |
| Jul 6 | Nigeria 3-2 Cameroon | 5pm BST / 12pm ET | Alexandria Stadium |
| Jul 6 | Egypt 0-1 South Africa | 8pm BST / 3pm ET | Cairo International Stadium |
| Jul 7 | Madagascar 2-2 (4-2 pens) DR Congo | 5pm BST / 12pm ET | Alexandria Stadium |
| Jul 7 | Algeria 3-0 Guinea | 8pm BST / 3pm ET | 30 June Stadium |
| Jul 8 | Mali 0-1 Ivory Coast | 5pm BST / 12pm ET | Suez Stadium |
| Jul 8 | Ghana 1-1 (4-5 pens) Tunisia | 8pm BST / 3pm ET | Ismailia Stadium |
---
Africa Cup of Nations Group A tables, fixtures & results
---
| Pos | Team | GP | W | D | L | GD | Pts |
| --- | --- | --- | --- | --- | --- | --- | --- |
| 1 | 🇪🇬 Egypt | 3 | 3 | 0 | 0 | +5 | 9 |
| 2 | 🇺🇬 Uganda | 3 | 1 | 1 | 1 | 0 | 4 |
| 3 |  🇨🇩 DR Congo | 3 | 1 | 0 | 2 | 0 | 3 |
| 4 | 🇿🇼 Zimbabwe | 3 | 0 | 1 | 2 | -5 | 1 |
Fixtures
| Date | Game | Time (UK) | Venue |
| --- | --- | --- | --- |
| June 22 | Egypt 1-0 Zimbabwe | 9pm | Cairo International Stadium |
| June 22 | DR Congo 0-2 Uganda | 3:30pm | Cairo International Stadium |
| June 26 | Egypt 2-0 DR Congo | 9pm | Cairo International Stadium |
| June 26 | Uganda 1-1 Zimbabwe | 6pm | Cairo International Stadium |
| June 30 | Uganda 0-2 Egypt | 8pm | Cairo International Stadium |
| June 30 | Zimbabwe 0-4 DR Congo | 8pm | Cairo International Stadium |
---
Africa Cup of Nations Group B tables, fixtures & results
---
| Pos | Team | GP | W | D | L | GD | Pts |
| --- | --- | --- | --- | --- | --- | --- | --- |
| 1 | 🇲🇬 Madagascar | 3 | 2 | 1 | 0 | +3 | 7 |
| 2 | 🇳🇬 Nigeria | 3 | 2 | 0 | 1 | 0 | 6 |
| 3 | 🇬🇳 Guinea | 3 | 1 | 1 | 1 | +1 | 4 |
| 4 | 🇧🇮 Burundi | 3 | 0 | 0 | 3 | -4 | 0 |
Fixtures
| Date | Game | Time (UK) | Venue |
| --- | --- | --- | --- |
| June 22 | Nigeria 1-0 Burundi | 6pm | Alexandria Stadium |
| June 22 | Guinea 2-2 Madagascar | 9pm | Alexandria Stadium |
| June 26 | Nigeria 1-0 Guinea | 3:30pm | Alexandria Stadium |
| June 27 | Madagascar 1-0 Burundi | 3:30pm | Alexandria Stadium |
| June 30 | Madagascar 2-0 Nigeria | 5pm | Alexandria Stadium |
| June 30 | Burundi 0-2 Guinea | 5pm | Al Salam Stadium |
---
Africa Cup of Nations Group C tables, fixtures & results
---
| Pos | Team | GP | W | D | L | GD | Pts |
| --- | --- | --- | --- | --- | --- | --- | --- |
| 1 | 🇩🇿 Algeria | 3 | 3 | 0 | 0 | +6 | 9 |
| 2 | 🇸🇳 Senegal | 3 | 2 | 0 | 1 | +4 | 6 |
| 3 | 🇰🇪 Kenya | 3 | 1 | 0 | 2 | -4 | 3 |
| 4 | 🇹🇿 Tanzania | 3 | 0 | 0 | 3 | -6 | 0 |
Fixtures
| Date | Game | Time (UK) | Venue |
| --- | --- | --- | --- |
| June 23 | Senegal 2-0 Tanzania | 6pm | 30 June Stadium |
| June 23 | Algeria 2-0 Kenya | 9pm | 30 June Stadium |
| June 27 | Senegal 0-1 Algeria | 6pm | 30 June Stadium |
| June 27 | Kenya 3-2 Tanzania | 9pm | 30 June Stadium |
| July 1 | Kenya 0-3 Senegal | 8pm | 30 June Stadium |
| July 1 | Tanzania 0-3 Algeria | 8pm | Al Salam Stadium |
---
Africa Cup of Nations Group D tables, fixtures & results
---
| Pos | Team | GP | W | D | L | GD | Pts |
| --- | --- | --- | --- | --- | --- | --- | --- |
| 1 | 🇲🇦 Morocco | 3 | 3 | 0 | 0 | +3 | 9 |
| 2 | 🇨🇮 Ivory Coast | 3 | 2 | 0 | 1 | +3 | 6 |
| 3 | 🇿🇦 South Africa | 3 | 1 | 0 | 2 | -1 | 3 |
| 4 | 🇳🇦 Namibia | 3 | 0 | 0 | 3 | -5 | 0 |
Fixtures
| Date | Game | Time (UK) | Venue |
| --- | --- | --- | --- |
| June 23 | Morocco 1-0 Namibia | 3:30pm | Al Salam Stadium |
| June 24 | Ivory Coast 1-0 South Africa | 3:30pm | Al Salam Stadium |
| June 28 | Morocco 1-0 Ivory Coast | 6pm | Al Salam Stadium |
| June 28 | South Africa 1-0 Namibia | 9pm | Al Salam Stadium |
| July 1 | South Africa 0-1 Morcoco | 5pm | Al Salam Stadium |
| July 1 | Namibia 1-4 Ivory Coast | 5pm | Cairo International Stadium |
---
Africa Cup of Nations Group E tables, fixtures & results
---
| Pos | Team | GP | W | D | L | GD | Pts |
| --- | --- | --- | --- | --- | --- | --- | --- |
| 1 | 🇲🇱 Mali | 3 | 2 | 1 | 0 | +4 | 7 |
| 2 | 🇹🇳 Tunisia | 3 | 0 | 3 | 0 | 0 | 3 |
| 3 | 🇦🇴 Angola | 3 | 0 | 2 | 1 | -1 | 2 |
| 4 | 🇲🇷 Mauritania | 3 | 0 | 2 | 1 | -3 | 2 |
Fixtures
| Date | Game | Time (UK) | Venue |
| --- | --- | --- | --- |
| June 24 | Tunisia 1-1 Angola | 6pm | Suez Stadium |
| June 24 | Mali 4-1 Mauritania | 9pm | Suez Stadium |
| June 28 | Tunisia 1-1 Mali | 3:30pm | Suez Stadium |
| June 29 | Mauritania 0-0 Angola | 3:30pm | Suez Stadium |
| July 2 | Mauritania 0-0 Tunisia | 8pm | Suez Stadium |
| July 2 | Angola 0-1 Mali | 8pm | Ismailia Stadium |
---
Africa Cup of Nations Group F tables, fixtures & results
---
| Pos | Team | GP | W | D | L | GD | Pts |
| --- | --- | --- | --- | --- | --- | --- | --- |
| 1 | 🇬🇭 Ghana | 3 | 1 | 2 | 0 | +2 | 5 |
| 2 | 🇨🇲 Cameroon | 3 | 1 | 2 | 0 | +2 | 5 |
| 3 | 🇧🇯 Benin | 3 | 0 | 3 | 0 | 0 | 3 |
| 4 | 🇬🇼 Guinea-Bissau | 3 | 0 | 1 | 2 | -4 | 1 |
Fixtures
| Date | Game | Time (UK) | Venue |
| --- | --- | --- | --- |
| June 25 | Cameroon 2-0 Guinea-Bissau | 6pm | Ismailia Stadium |
| June 25 | Ghana 2-2 Benin | 9pm | Ismailia Stadium |
| June 29 | Cameroon 0-0 Ghana | 6pm | Ismailia Stadium |
| June 29 | Benin 0-0 Guinea-Bissau | 9pm | Ismailia Stadium |
| July 2 | Benin 0-0 Cameroon | 5pm | Ismailia Stadium |
| July 2 | Guinea-Bissau 0-2 Ghana | 5pm | Suez Stadium |