Premier League
Aduana Stars want Ghana's 2018-19 Caf Champions League ticket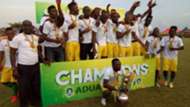 The Ghana Premier League had just hit the halfway mark when it was suspended indefinitely in June.
An investigative documentary exposed corrupt and match-fixing activities of top officials and referees of the Ghana Football Association, leading to, among others, a break in all competitive local football competitions and matches.
With resumption of the topflight unclear, the calendar year drawing to an end and the clock ticking on submission of representatives for the 2018-19 continental inter-club competitions which start in November, Aduana Stars - defending champions of Ghana's league - believe they are the best candidates to represent the troubled west African nation in the Caf Champions League, even after exercising their champions' right in the 2018 edition.
"We haven't written officially to the Normalization Committee [for football in Ghana] about our decision but since we are the winners of last season's league, we deem it fit to represent Ghana in Africa next season," club public relations officer Evans Oppong told Sportworldghana.
"There have been instances in Egypt and Ivory Coast during political crisis where previous winners of their respective leagues represented them in African competitions.
"We have heard some clubs are lobbying through government officials but that is not the right thing to do.
"If the Normalization Committee refuses to accept our request, then there should be a mini-tournament to determine who represents Ghana in African competitions next season."
Aduana representated Ghana in the Champions League this season, making the group stage, while Asante Kotoko represented the country in the Confederation Cup.
While the Fire Boys make their push, others say Medeama and Ashanti Gold, who currently sit first and second on this season's league table, should represent Ghana in the Champions League and the Confederation Cup respectively.