Africa Cup of Nations Qualification
Adel Amrouche: FKF should stop lying to Kenyans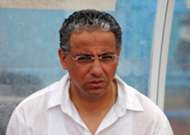 Adel Amrouche has denied claims that he turned down a second chance to handle Harambee Stars.
Football Kenya Federation are shopping for a new coach following the exit of Belgian Paul Put last month. On Thursday, FKF CEO Robert Muthomi revealed that Amrouche, who handled the team between 2013 and 2014, had been approached, but turned down the offer to return for a second stint.
"Amrouche is claiming his dues accrued by the former office and he took the case to Fifa. We have reached out but he does not seem willing to take up the role."
But speaking exclusively to Goal on Friday, Amrouche has hit out at the Federation for lying to Kenyans. "I have never been contacted by anyone from the federation. In fact, I politely wrote a message to the CEO but he told me he is in Morocco and will call back and never did.
"I know FKF are afraid of working with me because they cannot be in a position to arm-twist the selection of the team. They all know that it will not be possible to influence the selection of the team if I take charge but that is a very unfortunate scenario to football in Kenya."
Asked whether he is willing to make a comeback to Kenya, Amrouche said, "Of course yes…I receive messages from many fans and players asking if I will take up the vacant position. I also like working in Kenya and will take the job if my conditions are met."
The Belgian coach had an incredible run with the team in 2013 to 2014 before he was axed by the previous regime.
In just his first game in charge, he was within minutes of leading Kenya past Nigeria for the first time ever, in a 2014 World Cup qualifier played at the Esuene Stadium. Nigeria however, equalized in added time to tie the game 1-1.
In his tenure with Kenya, the former Burundi coach achieved two rare fetes; He started by replacing 11 years of dust in an otherwise empty Kenyan cabinet by bringing in the 2013 Cecafa Senior Challenge Cup title, the first in 11 years.
In his run of 16 games, of which he lost just three, he matched a record set in 1983 of going six straight games without conceding a goal. He was on the verge of breaking the streak till hosts Comoros leveled to tie a first round 2015 Africa Cup of Nations qualifier 1-1.