Super League
Adam and Syahmi the prominent names in Selangor's half season Super League statistics
10:20 AM GMT+8
05/05/2017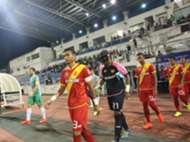 ---
BY        ZULHILMI ZAINAL       Follow on Twitter
---
Selangor finished the first half of the 2017 Malaysia Super League (MSL) in fifth and with 16 points. Who are the most prominent performers in the Red Giants squad so far?
TEAM STATISTICS
The Red Giants have recorded four wins, four draws and three defeats this season, with 16 points collected in fifth place. At home they have won thrice, drawn twice and lost once, while on the road they won once, drawn twice and lost two matches.
They have scored 16 goals and conceded 13, for an average of 1.45 goal scored every match, and 1.18 goal conceded every match. Although their goal count is not among the highest in the league (even ninth-placed PKNS FC have scored 18), their goals conceded tally is the second-lowest, after JDT's 10. They have kept three cleansheets out of 11 matches, while failing to find the back of the net in three matches.
Records show that the Red Giants have been the most lethal within the period between just after the second half kick-off and the hour mark, with four goals having been scored in this period. They have also been lethal between the start of the match and the 15th minute mark, as well as the period between the 15th and 30th minute mark, with 18.8% of their league goals having come in each of these periods.
Interestingly, the average time that their first goals in away matches is scored is as early as the third minute. Three goals come to mind, youngster Syahmi Safari's first-minute goal against PKNS FC, and Timor Leste forward Juliano Mineiro's fourth-minute opener against Kelantan and sixth-minute goal against Pahang.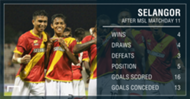 GOALS
The Red Giants' foreign players dominate their goal-scoring department, with 13 goals shared by three players. Mineiro and Liberian hitman Forkey Doe are their joint-top scorer with five goals each, while Romanian winger Victor Astafei has scored three. The remaining three were each scored by Adam Nor Azlin, Raimi Noor and Syahmi.
APPEARANCES
No prize for guessing one of the man with the most appearances for the Red Giants in the league this season. It's their captain Razman Roslan, who has played every minute of Selangor's 11 Super League matches.
But surprisingly, the other player who has appeared 11 times for the Red Giants is also one of the youngest; 19-year old winger Syahmi Safari. The Malaysia U23 squad member has been a revelation ever since he was promoted to the senior team at the start of the season, having played only eight minutes less than his captain's 990. Syahmi has been substituted off twice this season; in their 5-3 defeat to PKNS FC and 1-0 loss to Perak.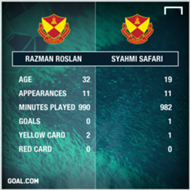 Astafei, Adam, utility man Veenod Subramaniam and midfielder Saiful Ridzuwan Selamat have each made 10 appearances for Selangor. Aside from squad members who have yet to appear at all this season, third-choice goalkeeper Zarif Irfan Hashimuddin is the man with the smallest number of appearance, playing the whole 90 minutes of their season opener against Pulau Pinang. Interestingly, the young goalkeeper collected a cleansheet in the 2-0 win.
When the appearance records are sorted by minutes played, the names appearing at the top are almost similar. Saiful is the man who has been on the pitch for the third-longest time; 881 minutes, Astafei fourth with 847, while their defensive rock, centre back Ugo Ukah is fifth with 785.
22-year old midfielder Satish Krishnan, despite having made three league appearances this season, has only been on the pitch for a total of eight minutes, the Selangor squad member with the least time on the pitch (aside from those who have not played at all). He has exclusively been brought on by head coach Maniam Pachaiappan as a last-minute substitution, to run down the clock.
SUBSTITUTIONS
Although young striker Adam Nor Azlin has only scored once and started three matches this season, Maniam has brought him on as a substitute in seven matches, and he is the Red Giants' most frequently-used bench player this season. This evidently shows the Selangor boss' belief, as well as patience, in the Malaysia U23 striker's potential. Second on the list is winger Fitri Shazwan Raduwan with five substitutions, and third is young defender Kannan Kalaiselvan with four.
In terms of substitutions off, midfielder Abdul Halim Zainal and Mineiro are the joint-leaders, having each been taken off by Maniam six times. Next is Saiful with four, while Adam is also in the top portion of this statistics. He has been taken off in all the three matches that he started in.
DISCIPLINE
Unfortunately, Adam is also one of the top names in one of the unwanted lists; yellow cards collected. Despite the fact that he is a forward and has only played a total of 392 minutes, he is one of two Selangor players with the most yellow cards; four. For comparison, the other Selangor player with four yellows, Ukah is a centre back and has played 785 minutes in total. Saiful meanwhile is third, with three yellow cards.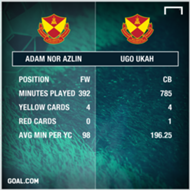 None of Maniam's charges have received a straight red card this season, but two of them have picked up a second yellow each. The first one was by Raimi in their match against PKNS, and the other was by Ukah against Perak. Ukah's sending off was particularly damaging, as it led to a Perak penalty and then what turned out to be the only goal of the match. 
One interesting fact; although Razman is the only man to have played every single minute of Selangor's Super League matches this season, he has picked up only two yellow cards. Evidently Adam needs to learn a thing or two about playing with a cool head from his experienced captain.
GOALKEEPING
Maniam has utilised three goalkeepers throughout the season; first-choice Khairulazhan Khalid; backup custodian Norazlan Razali and Zarif. But Khairulazhan has clearly been head and shoulders above the other two. He has appeared in eight matches, conceded seven goals (0.75 goal per match) and kept two clean sheets.
Interestingly, although Norazlan is next in the pecking order, his record has been marginally worse than his younger counterpart. In the two games he played this season, against Melaka United and PKNS FC, the 31-year old custodian conceded a whopping six goals (three goals per match), when Khairulazhan needed seven matches to let in that many goals. Unsurprisingly, Norazlan has not been selected by Maniam again since. Compare this to Zarif, who kept a cleansheet in the only match he has appeared in, against Pulau Pinang, for a 100% record.
The Red Giants have another goalkeeper registered in the squad; youth goalkeeper Damien Lim, but the Malaysia U19 custodian has not made any senior appearances this season, although he has been on the bench once; against Pulau Pinang. Selangor were without both Khairulazhan and Norazlan who were injured for that match.