Goal United
A new star is born: Poland teenager Kapustka lights up Northern Ireland win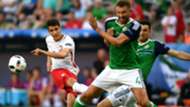 ---

COMMENT
---
Those viral stats trending across social media before football matches always whet the appetite, none more so than numbers involving Robert Lewandowski. The Bayern Munich striker has 34 career international goals for Poland, while Northern Ireland's entire starting line-up has just 36. Yet it wasn't Europe's top goalscorer who stole the show for the Poles against Michael O'Neill's men on Sunday in their Euro 2016 opener. Nor was it the game's match-winner Arkadiusz Milik.
Instead, a new name has entered the fray alongside Lewy and co.
The little-known Bartosz Kapustka was chosen in the starting line-up on the left side of midfield after replacing Kamil Grosicki. The 19-year-old has no experience of a major European league and has only made 58 appearances for the oldest Polish club in existence, KSC Cracovia.
It's worth noting that a few months before the tournament Kapustka was involved in a brawl outside a nightclub. Having sustained an injury during the fighting, the youngster made a phone call to Poland head coach Adam Nawalka where he begged for forgiveness and expressed his desire to be included in the squad for the Euros. Those are the kind of fine lines between inclusion and omission.
"Now I think about things three times before I do something," he noted. "I view this as a valuable lesson. It was not an easy time [the nightclub fight], because my family and loved ones worried about me, but fortunately that is behind me now. I'm focusing on what I can show on the pitch."
And fortunately for Poland and all neutrals, the decision to forgive him paid off handsomely. Dynamic and two-footed, he was a thorn in Northern Ireland's side throughout. He almost broke the deadlock with a fizzing drive in the first half and appears to be one of those players who is always in the right place at the right time – unless it involves a nightclub of course.
"Sense we'll see a lot of Kapustka in the coming years. Deliciously talented 19-year-old," former England star Gary Lineker tweeted during the match.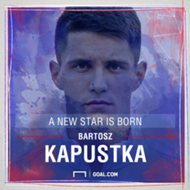 Kapustka has already scored twice from midfield for Poland. The Euro 2012 co-hosts had never won a European Championship game in their history before Sunday and a game against Northern Ireland, considered minnows by many, posed a tricky test for an opening match of the tournament. But Northern Ireland's first appearance at a major tournament since 1986 ended in somewhat predictable fashion. They barely threatened in attack and did not manage a single shot on goal.
Down the other end, though, Kapustka was a livewire as he constantly attacked the Northern Irish backline. Galatasaray were interested in signing the teenager in January and he's considered one of Poland's brightest young talents. 
Indeed, Cracovia president Janusz Filipiak has already put a big transfer tag on his starlet.
"The transfer rumours are not something that will keep me awake at night," the president insisted. "If a club offer €1.5-2 million, I will advise Kapustka against such a move. Such an offer would mean they're a weak club, and he can do better."
Meanwhile, the player himself is convinced that ignoring speculation and concentrating on football is the way to go.
"The opinion of my Cracovia coach will be very important for me, but for now I leave this issue out of my mind," he explained last month. "I think only about the Euros. Nobody has decided yet who will be leaving the club. Rather the media is creating rumours that suggest I'm leaving Cracovia. I try to ignore any speculation as it's best to work on my training."
One thing's for sure, Kapustka has all the attributes of a top class midfielder and if he carries on playing like this on the biggest European platform, it won't be long before Premier League, La Liga, Serie A and Bundesliga clubs come calling.