Barcelona
A defensive Henrik Larsson: Darijo Srna can galvanise Barcelona's season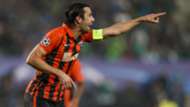 ---
COMMENT
---
Barcelona have chosen veteran right-back Darijo Srna as the man to plug a gaping hole in defence, and they are betting on the Croatian to have just as big an impact as Henrik Larsson did in his short time at Camp Nou. 
The position has been a problem for the club since Dani Alves left for Juventus, with Aleix Vidal failing to convince coach Luis Enrique he can do the job. Barca, however, are not interested in a transfer that could put at risk their activity for the coming summer. 
Srna, then, has emerged as a good, cheap option, a Larsson-style firefighter who can do a sterling job for the Catalans in the twilight of his career. 
Technical secretary Robert Fernandez, according to AS, is keen to take the Shakhtar Donetsk player on a free transfer in January and then free up the spot for a longer-term option this summer. Alves has indeed also influenced the club's hopes of finding such a replacement. The Brazilian's injury now means Juan Cuadrado and Stephan Lichtsteiner, two previous possibilities, are now required by Juventus, while Chelsea have made clear that Branislav Ivanovic will not be allowed to leave for nothing.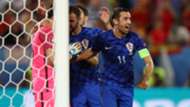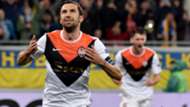 Joao Cancelo and Cedric Soares, meanwhile, are targets to be pursued at the end of the campaign, while Arsenal's Hector Bellerin is less and less likely to return to his first club. 
Srna, then, has been left as Barcelona's last resort, as the market for a reliable, cheap full-back has narrowed before their eyes to just one name. 
The Blaugrana will therefore attempt to repeat the feat managed with Larsson, who arrived at Camp Nou in 2004 as back-up to Ronaldinho and Samuel Eto'o in attack. After a brilliant career at Feyenoord and Celtic the Swede jumped at the chance to win the game's biggest titles at the end of his career, and finally crowned his effort with a double in 2006. Srna would also be keen on such an opportunity. 
After 13 years in Ukraine with Shakhtar, for whom he wears the captain's armband, the 34-year-old defender is open to the chance of retiring at Barcelona and winning further silverware. Srna is also free to dispute the second half of the Champions League after his club's adventure ended in the qualifying stages. Barcelona hopes that the player's desire to play at Camp Nou, as well as the fact his contract is up at the end of the season, help push negotiations over a free transfer along with his current employers.