World Cup
2026 World Cup bid group wants to meet with President Trump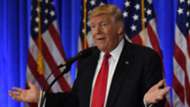 With the United States-led bid to bring the 2026 World Cup to North America gaining steam, the next step could be a meeting with President Donald Trump.
U.S. Soccer, which has teamed with Mexico and Canada in the bid, hinted that a visit to the White House could happen in the near future.
FIFA offers three-month timeline for additional bids
According to ESPNFC, a meeting with the bid leaders and Trump could potentially answer any questions regarding a U.S.-Mexico border wall and show FIFA full government support.
"The president is fully supportive," U.S. Soccer president Gulati told ESPN. "My guess is that in the not-too-distant future you'll see further confirmation of that from Washington, and in Washington."
Gulati was joined this week at a CONCACAF congress by Mexican federation president Decio de Maria, Canadian federation president Steve Reed and CONCACAF president Victor Montagliani.
The contingent proposed a fast-tracked timeline that would have given the bid a year to meet FIFA's technical standards without competing against any rivals. The FIFA Council instead put forth a plan to accept additional bids until Aug. 11.
But the council did agree to the condensed timeline that would award the 2026 World Cup in June 2018, instead of the original plan to confirm the host in 2020.
"This is a victory for us," Gulati said, according to ESPNFC. "We got what we wanted most. An open process is a good thing and we're very confident that our bid will be a high quality one."
Europe and Asia are ineligible to host the 2026 World Cup because Russia and Qatar won the rights for 2018 and 2022, respectively, while South America and Oceania have endorsed the North American bid — leaving Africa as the only potential rival.