Premier League
200 not out: Ozil shows critics he's still Arsenal's main man
12:01 AM GMT+8
16/09/2018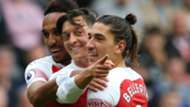 Before this game the focus again was on Mesut Ozil. Arsenal head coach Unai Emery was questioned about the German playmaker in his pre-match press conference and proceeded to tell the media that, yes, Ozil could give more. It follows on from the line of questioning he has been receiving all season about the player many seem to love to hate. 
It must have been a strange past fortnight for Ozil, who normally at this time of year would be away with his national team. An acrimonious split from the German Football Federation (DFB) however has put a halt to his international career.
As it transpired Ozil had a positive break, according to his manager, and was in a good frame of mind to visit Newcastle for the first time as an Arsenal player.
Curiously, since his signing in 2013, Ozil had not once set foot in St James' Park until Saturday afternoon but was nonetheless ready to make an impact.
It was his 200th match for Arsenal; a spell which has sharply divided Arsenal fans and critics alike. Some see laziness, apathy, disinterest in the 29-year-old's game; a living embodiment of the nonchalance that was allowed to set in during the dog days of Arsene Wenger's regime.
Others – however – saw and continue to see genius. And simply put Ozil is the kind of player who can set Arsenal apart.  On a special day for him, he did just that.
Granit Xhaka is another one who has come under scrutiny since signing for Arsenal but he was excellent here. Many wondered exactly what he was doing standing over an early second-half free-kick. Dispatching it into the top corner shredded any doubt. He then laid on Ozil's goal shortly after which just about sealed it for the Gunners.
It was his first Premier League goal of 2018 and his 38th overall for Arsenal. Admittedly, that's not a great return for an attacking player across five years. While the snipers will continue to come after his goalscoring record, in the creative category Ozil has always been beyond reproach.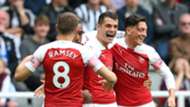 Since his debut Ozil has been among the league's best creative performers whether his critics like it or not.
Since his debut he has given the joint-most assists (50) along with Christian Eriksen who has played some 30 games more.
He has provided 35 of those from open play. Only David Silva (37) has more.
He has created 481 chances, only four fewer than Eriksen.
He has created 355 of those from open play. Only Eden Hazard (416) has made more.
And he leads the way in what Opta terms 'big chances created' too with 61.
Ozil has been consistent; arguably far more consistent than some of his team-mates during that time. He has never played in a squad capable of challenging for titles but his numbers are on par – in the case of Silva and Hazard - with those who have.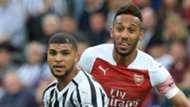 He has borne more than his fair share of the blame for Arsenal's failings during his spell at the Emirates and not always has it been just. It's hard to know what would be required for him to earn the plaudits that his peers do.
There is a habit of singling out players for individual criticism as if everything a player does on the field does not depend on the work of 10 others. Petr Cech is going through it at the moment. Fans and critics alike are content to sneer at his attempts to get up to speed with Emery's short passing game from the back.
Indeed his pass which went straight out for a corner – his second one of the season – will be replayed and offered as evidence that he is not up to the job. But that would be to ignore the trouble Shkodran Mustafi put him in with the pass back to him in the first place.
Arsenal's defenders are neither brave nor bright enough to do anything other than pass the buck to Cech when they are being closed down. That in turn is exposing Cech's occasional problems in dealing with dud passes. But Cech's passes are entirely dependent on the passes he himself receives.
It's rarely straightforward and Ozil tends to be judged in the same regard. The difference is that throughout his time at the club he has been a class above. Sure there have been anonymous performances here and there; but he is a top level player and opponents are always likely to try and mark him out of the game.
The problem is that Arsenal – without him – have nowhere else to turn. Pierre-Emerick Aubameyang has helped lift the weight since his signing but Arsenal's problems are not Ozil's alone just as they are not Cech's alone.
The best signing they have made in the past year was the extension of Ozil's contract until 2021. There is simply no other player like him and fans would do well to recognise that.