Manchester United
Zlatan a dab hand again for Manchester United as he comes to Pogba's rescue
10:15 PM GMT+4
15/01/2017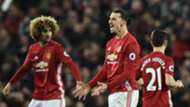 ---
COMMENT
---
Manchester United's nine-match winning run may have come to an end against Liverpool on Sunday but good teams generally find ways to get a result even when all seems lost. And, in Zlatan Ibrahimovic, they found a saviour just when it appeared that hashtag-hero Paul Pogba was destined to make all the headlines.
Pogba mocked after 'dabbing the ball'
The 1-1 draw at Old Trafford featured the best and the worst of United. Before half-time they were largely lifeless, one-dimensional and panicky. There was almost no involvement for Ibrahimovic thanks to the misfiring production line behind him, with Pogba chief among those having an off day.
He might well have hit the headlines in the past week for interrupting a Sky Sports interview with Ibrahimovic and then being rewarded with his own Twitter hashtag, all celebrated with a new snazzy haircut, but the build-up was not followed by a performance to match.
Pogba tilted the match in Liverpool's favour midway through the first half after losing the flight of a right-wing corner, turning his back and eventually throwing his arm up in the path of the ball. There was absolutely no question about Michael Oliver's decision to point to the spot and James Milner buried the penalty beyond David de Gea.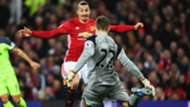 It was typical of his afternoon in many ways. He had already snatched at one of United's better chances after racing through and being given a sight of Simon Mignolet's goal only to drag the ball wide of the far post. And, after giving away the penalty, he only found less space to run into as United chased the game, while an attempted trick in the second period allowed Emre Can to dispossess him in a dangerous area with Liverpool having men on the break.
Mkhi: Klopp told me to snub Liverpool
Pogba wasn't the only man to deliver an under-par display, with Henrikh Mkhitaryan spurning great chances in both halves to make Liverpool pay for their slack defensive traits. On both occasions he found time and space on the ball, only to pass up on the chance to ask serious questions of Mignolet. While his second-half slip-up might have been converted had one of Wayne Rooney and Anthony Martial made a more appropriate run, the Armenian really should have tested the goalkeeper.
But it was left to Zlatan to bail out United as a period of almost incessant pressure in the second half led to a deserved equaliser six minutes from the end. After Marouane Fellaini's initial header from Wayne Rooney's cross came back off the post, Antonio Valencia picked out the big Swede. And, just when he could easily have snatched at the chance as everyone around him scrambled about, the former Paris Saint-Germain front man showed he had the coolest head in the house, steering a header intelligently over Mignolet.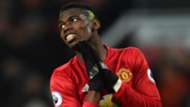 Ibrahimovic has 19 goals by mid-January. Not bad for a man who "wouldn't be able to do it in the fast-paced Premier League". If that myth hadn't already been killed, his composed finish certainly puts that opinion to bed.
United deserved the point they got when all is said and done, with Fellaini's impact in the final 15 minutes helping to put Liverpool under a session of intense pressure they would have done very well to survive. On an afternoon during which the Theatre of Dreams was rocking, this was a reminder of what Manchester United Football Club can achieve.
So hats off to Jose Mourinho for his key substitutions, to Zlatan Ibrahimovic and Marouane Fellaini for coming through when United needed them most, and to the home fans for responding to Mourinho's call for a great atmosphere.
Pogba owes every one of them a huge thank you.