Real Madrid
Zidane: PSG can cope without Neymar against Real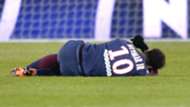 Real Madrid manager Zinedine Zidane expects a difficult encounter against PSG in the Champions League last-16 second leg tie next week, despite Neymar's absence.
The Brazilian superstar sustained a fractured metatarsal that requires surgery against Marseille, placing his World Cup participation in doubt.
Zidane is empathetic towards Neymar, but he insists that PSG have the squad depth to cope without the 26-year-old, despite falling to a 3-1 defeat in the first leg.
"We're sorry about Neymar but they're a good, strong side and whoever takes Neymar's place will be good. We're not thinking about an easy game," Zidane said.
"We've got to have some respect for the opponent, it's the second leg of the last 16 of the Champions League, so we have to go out and play at 100 per cent.
"It doesn't matter who is playing for the opposition, whoever comes in wants to prove themselves. It's going to be a difficult game but we knew that from the beginning of the tie.
"Of course players will be thinking about Tuesday, it's natural. But we're thinking of tomorrow. We want to go out and put on a good performance. Against Espanyol the first half was good and the second half wasn't. We have to concentrate for 90 minutes.
"Players will always think about a big game, it's natural, but we have to think about tomorrow's game [against Getafe] more than anything. It's important."
Meanwhile, Marcelo will play against PSG after recovering from a hamstring injury, but doubts persist over the fitness of midfielders Toni Kroos and Luka Modric.
The Brazil left-back returned to training on Friday, but Modric (hamstring) and Kroos (knee) remain on the sidelines ahead of Tuesday's second leg in the French capital.
Madrid host Getafe in LaLiga on Saturday, seeking to return to winning ways after a surprise defeat at Espanyol in midweek, but questions at Zidane's pre-match press conference were dominated by the European clash.
"Marcelo is going to be with us, no doubt about that," Zidane told reporters on Friday. 
"But the rest, I can't tell you anything. It depends on the players and how they feel. I want players who are at 100 per cent.
"I'm bothered about tomorrow. Tomorrow is the game, Tuesday we don't know. 
"We'll see, I don't want to speak about [injuries] now. We'll see."