Theo Walcott
'You're a wizard, Theo!' - Walcott came close to Harry Potter cameo
12:10 PM GMT+4
21/01/2018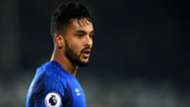 New signing Theo Walcott made his Everton debut in Saturday's draw with West Brom, but the Toffees' new addition has revealed that he was nearly once signed up to play Quidditch in the Harry Potters films.
Back in 2007, Walcott's uncle David Yates was the director of the 'Order of the Phoenix', and while several of the attacker's family members got cameo roles in the production, the England man missed out due to his professional commitments.
"My uncle, David Yates, was the director so he tried to get me in a film but I didn't have the time to commit to it. It takes a lot of time," he revealed.
"He wanted to get me into one of the Quidditch Games with the ball and all that stuff. I had no time but it would have been great.   
"My wife Mel was in one. My old man and my brother are in one as well. My mum might have been in it as well."
Walcott has arrived at Goodison Park in a bid to revitalise his career after dropping down the pecking order at the Emirates Stadium and having missed out on a series of England squads.
But he is seeking to draw on Wayne Rooney's renaissance at the club in order to get his own career back on track.
"Is Wayne an inspiration? Without a doubt," he said. "I got that from him just seeing what he did at such a young age. Going to such a big club, as I did as well, and how he's dealt with it.
"Just knowing him and him just putting his arm around me at times with England. Looking after me and just being a good guy. And learning from him in training and being around him, seeing the aura about him.
"He hasn't come here to put his feet up at all. I'm pleased with this decision and I'm definitely pleased to be here alongside Wayne.
"I'm someone who wanted to be part of something and Wayne felt part of Everton again. That's why he came back here. He said he had other offers but felt Everton was unfinished business.
"He wanted them to reach the levels he's reached as a player. He believes that this club, going forward, can create history again.
"There's so much desire there and that's what I wanted. It just felt like the right decision for me. It's been mad. I just want to get on that football field."
Walcott completed his move to Everton for a reported fee of £20 million on Wednesday.