Manchester United
'You're a grown-ass man, deal with it!' - Lukaku tired of Man Utd rift talk surrounding Pogba & Sanchez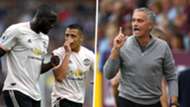 Romelu Lukaku is tired of rift talk at Manchester United and has told any team-mates that become caught up in arguments with Jose Mourinho to "deal with it".
Speculation regarding internal rows at Old Trafford has provided an unwelcome backdrop for the Red Devils in 2018-19.
Paul Pogba was the first to become embroiled in long-running reports of a row with his manager , although that relationship does appear to have been mended after reaching breaking point.
Alexis Sanchez, Antonio Valencia and Eric Bailly are also said to have incurred the wrath of their boss this season, leading to questions being asked of their respective futures, while Luke Shaw and Anthony Martial have had their form criticised in the past.
Lukaku, who has faced similar this term, is eager to bring an end to constant distractions, with the Belgian striker telling Bleacher Report : "I think [Mourinho] has a good relationship with the players.
"I don't really pay attention to what his relationship is with the other players, to be honest. I don't think it's something that should affect me.
"If he has an argument with somebody I mean, deal with it, man. You're a grown-ass man, deal with it."
Lukaku saw Mourinho question his commitment to the United cause after an FA Cup final defeat to Chelsea in May, with the Red Devils having hoped to be in a position to start their top marksman as he recovered from a knock.
That incident was quickly played down , but a 25-year-old frontman has struggled to deliver what is expected of him again in 2018-19.
Lukaku has managed just four club goals this season and is currently in the midst of a 10-game barren run.
He has endured further fitness issues, which have restricted his involvement and forced him to sit out international duty during the last break, but more will be demanded from him once domestic action resumes this weekend.