WTF
'You be you' - Paul Pogba stars in new Adidas video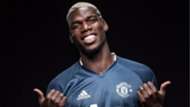 Adidas have released a video of their new boot campaign starring Manchester United midfielder Paul Pogba. 
'Ronaldo always destined for greatness'
The advert includes supercars, quickfire graphics and loud music - as well as Pogba being shut down by a supposed 'fan'.
To start, the French midfielder lectures the supporter on how he will never be like him.
"You – you will never be me," Pogba starts.
"You'll never play like me. You'll never wear this shirt or dance like me. You will NEVER be me."
Before the fired-up voice-over responds: "You?! I don't want to be you.
"I don't want to be anything like you, play like you or dance like that. I don't want to wear your name on my back or see your numbers on my phone.
Toure's incredible weight loss
"I don't want your face or your fame and I don't want to hear your name when I play my game. I don't want your signature or your signature moves. Don't want your glory, don't want your hype or your back page type.
"Your player reel isn't real to me, your promo deal isn't really me – you will never be my commentary.
"Let me be clear – I don't want to be you. I just want your boots."
Pogba signs out with the message: "I'm Paul Pogba – you be you."